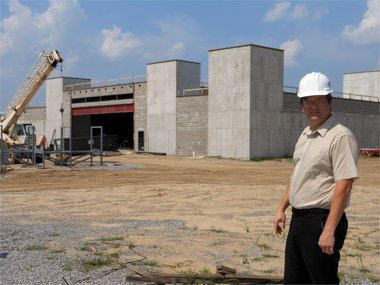 July 14, 2011
Students, faculty to benefit from aviation test cell
CARBONDALE, Ill. -- A state-of-the-art aviation test cell that will be part of the Transportation Education Center now under construction will be unique to Southern Illinois University Carbondale.
The nearly 11,000-square-foot facility will allow students and faculty in the Department of Aviation Technologies to run high-powered turbine, piston, and reciprocating engines in a safe environment.
The aviation test cell will feature four separate cells, two control rooms, a large hangar area where engines can be removed from or installed in aircraft, and a three-ton overhead rail system for moving engines within the facility.
The test cell complex is a "purpose-oriented building" that will feature industry-leading components not found at other universities, said Michael A. Burgener, an associate professor and department chair.
"This will be a huge advantage for the program," he said. "There are no other schools that will have anything as state-of-the-art as this test cell. This will have the most advanced instrumentation and equipment, and will be a huge draw for the aviation program. This will help with running engines in a safe manner and provide training for students they are not going to get anywhere else."
The test cell facility is part of the 200,000-square-foot Transportation Education Center at Southern Illinois Airport. The project, with an anticipated fall 2012 semester completion date, will also bring the aviation management and flight programs and the automotive technology program together at Southern Illinois Airport.
"The new test cell facility will allow the Aviation Technology faculty and students to test run various airplane engines in a safe environment using state-of-the-art data acquisition and processing equipment," said Terry A. Owens, interim dean of the College of Applied Sciences and Arts. "Students will benefit from the experience of utilizing facilities and equipment similar to what they will be expected to use in the industry."
Burgener said it's his understanding that plans for a test cell go back more than 45 years to the aviation technologies program's beginnings in September 1965. Those plans and efforts never reached full potential until the Transportation Education Center gained approval.
The test cell will enable students to test and operate engines in a safe and enclosed environment, getting away from mounting engines on test carts, taking them outside and chaining them down to operate. The facility also will not expose students to potential spinning propellers, jet blasts, turbine engine suction, hot parts or breakaway engines.
One of the four test cells is a turbine shaft test cell capable of up to 5,000 pounds of thrust that features inlet and exhaust areas. The adjacent control room and classroom will allow students to diagnose engine problems, including testing engine temperature and compression using numerous probes through video surveillance.
Each of the four test cells will feature sophisticated data acquisition, engine cooling and surveillance systems. The test cells will be able to run all of the different types of engines found on aircraft -- from 100 horsepower small engines to turbo shaft engines found on helicopters, Burgener said.
"Students will be able to overhaul an engine and put it in a test cell and test it in a controlled environment," he said.
Another test cell will include a dynamometer, allowing students to measure an engine's torque and horsepower.
Burgener anticipates one of the program's classes on advanced turbines will evolve into more of a test cell operator's course. That will give students an advantage over other students and programs upon graduation, he said. He also anticipates the facility's thick, double-blocked concrete walls, explosion-proof windows, and sound-deadening material inside the cells will make for a fairly quiet atmosphere. The facility's exterior also features a natural ground berm designed to direct air and noise upward to the atmosphere.
Another key component will be in research, where aviation technology faculty research includes alternative fuels, alternative power plants, and diesel technology for aviation. Because of safety concerns relating to engine performance, aviation is the only industry that still uses unleaded fuel, he said. The increased emphasis on research will also provide more opportunities for students to be involved in the work.
Aviation Technologies anticipates 160 students will enroll for the fall 2011 semester that begins next month, a 36 percent increase over the past two years, and up about 22 students from the spring 2011 semester. Burgener sees increased sections and course offerings to absorb the additional students.
He also forecasts a bright future for students graduating from the program. Graduates have no problems finding jobs at firms including Boeing, Rockwell Collins and King Avionics. Officials with the Boeing Company's commercial division based in Seattle, Wash., visited the campus this spring and hired several students graduating in May, Burgener said.
"There is a large need for graduates coming into the industry," he said, pointing to an improving economy in aviation-related fields, particularly in aviation manufacturing. A large issue in the next eight to 10 years will be the need for companies to fill projected employee shortfalls due to retirements, Burgener said.
For more information on SIUC's aviation programs, including the aviation technologies program, go to aviation.siuc.edu.