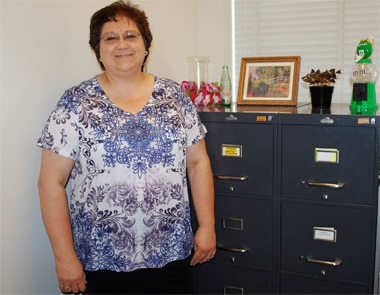 July 13, 2011
Ten questions with ... Tami Alvis
Job on campus/department you work in: Office manager, personnel and budget matters in the Department of Educational Psychology and Special Education
How long at SIUC: 22.5 years
Hometown: Du Quoin
When you were a youngster, what did you want to be when you grew up? Besides a wife and a mom, I wanted to be a history teacher and a writer.
If you could choose another profession, what would it be and why? I would be a private investigator because people and circumstances are not always what they appear to be. Or, I would like to own a Barnes and Noble-style bookstore and café, which would satisfy two of my favorite things to do -- read and cook.
What is something you still want to accomplish in life? To do some traveling across the U.S. and maybe go to Ireland one day.
What was the first "album" you ever bought, and was it an LP, 8-track or CD? I can't remember if I bought it or if my parents bought it for me, but it was Elvis Presley's "Elvis-Burning Love and Hits from His Movies." It was an LP.
If you could pick an actor/actress to play you in a movie, who would you pick and why? Sandra Bullock. She's an all-encompassing type of person -- funny, smart, serious, caring, girl-next-door or glamorous. I always enjoy the characters that she plays.
Cats or dogs? Dogs. They love you no mater what. They bring smiles and comfort. I love the nursing homes and care facilities that allow dogs to be brought in for patients to help them feel better.
What is your favorite food and why? Chicken. You can cook it so many ways, although good fried chicken is the best!
Who has inspired you, and how? My Mom and Dad. They are two of the kindest, most hospitable and loving Christian people I know. They taught my sisters and I to love and trust the Lord and be the best people we could be and to respect others.
What would you like your gravestone to say about you? She loved the Lord and it showed.