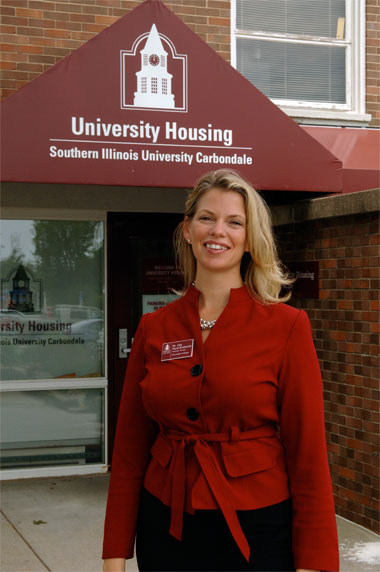 July 06, 2011
Ten Questions with ... Julie Payne-Kirchmeier
Job on campus/department you work in: Assistant Provost for the University College and Director of University Housing
How long at SIUC: 4.5 years
Hometown: Houston, Texas
When you were a youngster, what did you want to be when you grew up? I wanted to be either a ballet dancer (I got too tall) or a Broadway star (still haven't given up on that one).
If you could choose another profession, what would it be and why? Professional singer -- singing blues, musical theater standards and old torch songs. Now that's music!
What is something you still want to accomplish in life? I've not given up on obtaining a law degree; it's something I've always wanted to do. I also want to run with the bulls in Pamplona -- but my risk management training has helped me realize this might be problematic.
Who inspired you and how? My mother. She inspires me every single day with her integrity, her strength, her continual thirst for knowledge, and her compassion. I hope I grow up to be like her.
What was the first "album" you ever bought, and was it an LP, 8-track or CD?
The first album I bought was "Thriller" by Michael Jackson, and it was most definitely an LP. I still have it at my mother's house in Houston, even though we don't have anything on which to play it.
If you could pick an actor/actress to play you in a movie, who would you pick, and why?
Jeri Ryan. I've literally been stopped on the street and told that I look like her. Also -- while she's not as well known as some other actors, I think she's fearless.
Cats or dogs? Why? Cats. I've had cats my entire life -- I love how different their personalities are, and quite frankly, love how peaceful they are. Dogs are great -- but cats bring me even greater joy.
What is your pet peeve? Why? Toothpaste spit left in the sink. That's just gross.
What is one random fact about you? I firmly believe achieving true gender equality is possible very soon. I know it's idealistic -- but there's nothing wrong with being idealistic as long as you work toward that ideal every day with your thoughts, words and actions.
What would you like your gravestone to say about you?
"Here lies a woman who, every day she woke up, when her feet hit the floor the devil
said, "Oh shoot, she's awake!"