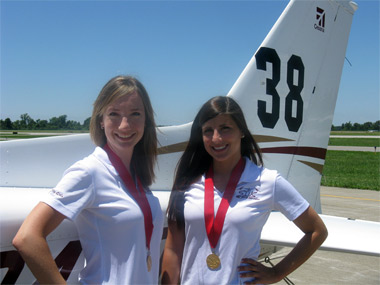 July 01, 2011
Saluki Fly Girls place highly at Air Race Classic
CARBONDALE, Ill. -- Erin Jackson and Melanie Murdock believed they performed well last week during the shortened 2011 Air Race Classic.
But as the top 10 teams clicked off in descending order Sunday, June 26, at the end of the 35th annual race, the two flight instructors in Southern Illinois University Carbondale's Aviation Management and Flight program did began to wonder just a bit.
Any doubts, however, quickly eased with a fifth-place showing among 43 finishing teams.
The "Saluki Fly Girls" were three-tenths of a nautical mph out of fourth place, and third of 11 teams in the collegiate division. Teams from Jacksonville University and the University of Illinois finished first and second, respectively, both overall and in the collegiate division.
"When they called out the plane number we were in shock," said Murdock, a part-time flight instructor from Roselle who graduated in May with a degree in aviation management. "They were calling out the top 10 and got to six and we thought there's no way we got above this, we must not have made the top 10."
"We were blown away and very excited," said Jackson, a senior lecturer, who was part of an SIUC team that was ninth in the 2010 Air Race Classic.
David A. NewMyer, chair of the Department of Aviation Management and Flight, said Jackson and Murdock's performance was "history in the making." The program fielded three teams last year and one team this year, while many race contestants have been competing for years, he said.
This result, along with Flying Salukis' national title in May, is another marker for the University's aviation programs, NewMyer said.
"I think this shows we are one of the top programs in the nation. We are competing very effectively no matter what we compete in, and it shows the hard work that Erin and Melanie put in," NewMyer said.
Bad weather conditions in Iowa, North Dakota, South Dakota and Wyoming cut the race by nearly half to just over 1,230 nautical miles. The weather prompted organizers to instead begin June 22, in Alliance, Neb. The race ended Friday, June 24, in Mobile, Ala.
The team raised enough funds for the entry fee, fuel requirements, lodging expenses, food and other costs. The University was responsible for the Cessna Skyhawk 172R plane and maintenance.
Jackson and Murdock said there was disappointment with a shortened race and not gaining flying experience in various elevations and over mountain regions. Jackson said she was also disappointed for race volunteers in the communities and smaller airports that didn't get to host the racers after preparing for the event.
"It was amazing even though the race was cut in half," Murdock said. "The half that we did get to compete in was thrilling. You can prepare so much for something but when you actually experience it it's amazing."
In addition to gaining new flying skills, Murdock said it is important to remember the heritage of women aviators, including Amelia Earhart, who was one of 20 women to compete in the first Women's Air Derby in 1929. Murdock said she "made great friends that I will probably have forever," and expects to see them at the upcoming AirVenture 2011 air show in Oshkosh, Wis., in late July.
"It is so amazing that I have the opportunity to participate in this," she said.
Murdock and Jackson said they will apply their event experiences to their students in the classroom.
While this was her second competition, Jackson said she continued to learn a lot. The elevations, altitudes, race route and even her teammate were different, she said.
"It was nice going in having a little bit of knowledge and not being completely blindsided by everything I was going to encounter," she said. "That took a little bit of the stress off … and I feel like this year I was able to enjoy it a little more."
A race change due to the weather was somewhat of a challenge because of the change from initial plans, Jackson said.
"But that is what racing is all about," Jackson said. "You have to go with the flow, be prepared for whatever gets thrown your way and just keep it together and do your best."
NewMyer said he hopes the program will have another entry in next year's competition in the collegiate division. The 2012 Air Race Classic is June 19-22, and will run from Lake Havasu, Ariz., to Batavia, Ohio.
For more information about SIUC's aviation programs, including the Air Race Classic team, go to aviation.siuc.edu.