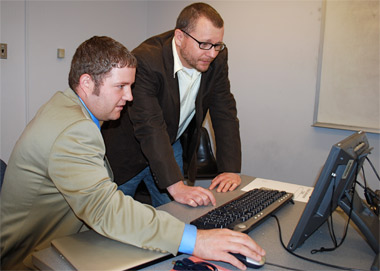 June 30, 2011
Student examining voters' decision-making process
CARBONDALE, Ill. -- Do most voters care about endorsements or do they care instead about the stances candidates take on given issues? How does a person's circle of friends affect that person's voting patterns?
Southern Illinois University Carbondale political science graduate student Drew Seib has created a way to test how voters use information accrued during a political campaign that might answer those and other questions.
Seib earned a $12,000 National Science Foundation Doctoral Dissertation Research Improvement Grant, the maximum amount allowed for that particular award. His grant, under the direction of Scott McClurg, associate professor of political science, helped him create a "dynamic information board" that simulates a mock political campaign. The grant also makes it possible for him to pay subjects for his study.
Seib's computer model creates components of a political campaign, including information he manipulates to determine the impact of different kinds of information on voters as they make their choices.
Seib hopes to have data from 600 subjects by the end of the summer. Study participants first take a survey intended to track demographics, including level of interest in the political process. The political campaign is a mock-up of a plausible 2012 campaign, Seib said, explaining that participants filter through political campaign information and then vote for a candidate.
"The program mimics the fast flow of information during a campaign," Seib said. "I can use this program to test a wide variety of election characteristics, including the effects of partisan elections on voters' choices. For example, in one study, some subjects are not told if the candidates are Democrats or Republicans."
Some of the information Seib introduces in the mock campaign about a candidate might include, for example, a media endorsement or an endorsement from another political candidate, or information about the candidate's position on jobs or health care or higher education.
"He built this whole program from scratch," McClurg said. "This tool helps us study the impact of information on voters, and how they use the information they have available to them. Drew is looking at how information affects voter psychology."
McClurg and Seib together used Seib's model recently in a research presentation at the Midwest Political Science Association national conference in Chicago. That research focused on the role of social communication in voting.
"We looked at social communication, how disagreements within a social network, might impact voting," McClurg said. "We found that many people conduct informal polls among their social network to help them decide how to vote. Most people have a larger network of those they agree with politically, and a smaller network of those they disagree with politically. The greater proportion of those who disagree within the social network, the more the individuals rely on themselves to make voting decisions."
"Drew's model spurred quite a bit of interest among scholars at the conference," McClurg said. "It's opened the eyes of our other graduate students, too. It's encouraging to see someone they know gaining such a prestigious grant and applying the model for research presentations as well as for the dissertation."