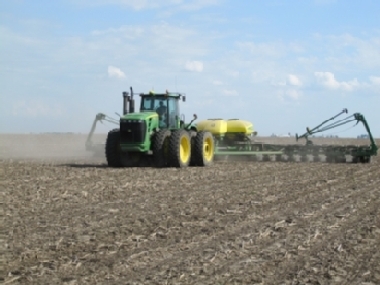 June 29, 2011
$7 million grant fuels agricultural research effort
CARBONDALE, Ill. -- Central Illinois is the home of some of the best agricultural soil in the world. Its black color bespeaks its rich and productive nature.
Now, researchers from Southern Illinois University Carbondale, with the help of a philanthropic agriculture booster, are embarking on a multiyear research project that will test dozens of techniques and parameters in hopes of finding the best, most efficient and productive ways to use this vast natural resource. What they find also could have major implications and benefits for farmers and societies around the world.
The Howard G. Buffett Foundation is providing $7 million to a multidisciplinary team of SIUC researchers. During at least the next six years, the team will examine the best ways to maximize agriculture in central Illinois.
Buffett himself, a longtime farmer and supporter of agriculture and part-time resident of central Illinois, will be "hands-on" in the project, climbing behind the wheel of large farming implements and providing input on experiment designs and concepts in an effort to create useful data garnered from research that is tested in a real-world setting.
Bryan Young, professor of weed science and agronomy in the Department of Plant, Soil and Agricultural Systems in the College of Agricultural Sciences, is heading up the project. Young said the long-term nature of the research, coupled with its large scale, would provide insights beyond what previous research has done.
"Research like this hasn't been done before because it's a lot of work and it costs a lot of money," Young said. "We often do research based on what happens in a 10-by-40-foot plot. Howard is providing us plots that are 80 acres. Conducting this research on big acreage means you can talk to a farmer who has 2,000 acres and convince them that what you are doing is a good thing that will work for him, too. It's one thing to do something on a small scale and quite another to do it on an actual field. So we're hoping to better relate our research to the grower."
Buffett's foundation owns about 2.500 acres southwest of Decatur, in Macon and Christian counties. SIUC researchers, traveling in a Ford F-250 diesel truck provided by the grant, are making the trek to the area several times per week, taking samples, making observations and designing experiments aimed at agriculture efficiencies.
As a man who has spent a great deal of time in a tractor on his farms in Illinois, Nebraska and South Africa, Buffett has definite opinions on the crucial issues farmers face. His input, therefore, guides which parameters the researchers look at. Then, he steps aside.
"He's told us, 'you're the scientists, you do the science,'" Young said. "Also, he's encouraged us to get as many disciplines involved as possible. Rarely do you have so many different aspects covered in work like this."
Over the next six years (and possibly up to 20 years total), researchers will examine important factors such as nitrogen fertilizer application techniques, timing and effects. They will look at the effects of hybrid, disease- and insect-resistant crops on the environment, tilling methods, watershed and water quality issues, agricultural economics, cover crops, soil issues and more.
The team will conduct some experiments in small plots of land, the smallest being eight acres -- still orders of magnitude larger than typical experimental plots, Young said. Some "test" plots will be as large as 80 acres, which the researchers think will give much more applicable results for farmers' consideration than the small test plots.
Young said it's all done with an eye toward feeding the world, making the grower successful and protecting the environment.
"We hope in the end that the database we're building helps us get to those practices that shape our future toward greater sustainability," Young said. Sustainability, he said, is defined as practices that provide enough food to feed society, provide profitability for growers, are safe and maintain or improve the environment and provide a local societal good.
"Growers will still need to make the decisions based on what works for them. Howard just wants to create some data that they might consider," Young said. "We want to identify things that can be practical for growers, as well as provide some information for those who might regulate growers.
"Howard wants to help provide information that leads towards sustainability," Young said. "You never get there, but you are always heading in that direction."
Todd Winters, interim dean of the College of Agricultural Sciences, said the University is grateful for the support from Buffett.
"We have developed an excellent relationship with the Howard Buffett Foundation to study sustainable practices in agriculture for the long term," Winters said.
The SIUC team includes a wide array of disciplines. Among those participating are Michael J. Lydy, professor of zoology, who is looking at the effects of herbicides, insecticides and fungicides. Karl Williard, professor of forestry, and Jon Schoonover, assistant professor of forestry, are looking at water quality issues, carbon sequestration, nitrogen flux in soils and other soil properties.
Jason Bond, associate professor of plant, soil and agricultural systems, is working on plant pathology issues along with Ahmed Fakhoury, assistant professor. Sylvia Secchi, assistant professor of agribusiness economics, will later examine outcomes from an economic point of view.
All the researchers are setting up data collection sites and doing analysis. A typical experiment, for example, might involve using a different way to apply a different type of nitrogen fertilizer on a field with various tilling practices, then watching how it all impacts microbes in the soil and different types of hybrid plant growth and productivity. Along the way, researchers would watch how the nitrogen works its way through the watershed and follow it all up with an economic analysis.
Young said Buffett got to know the SIUC community through his longtime friend, the late U.S. Sen. Paul Simon. The University's research reputation was a perfect fit for his interest in agriculture experimentation, he said.
Since starting the latest round of experiments this spring, SIUC researchers have been staying in a remodeled farm house near Decatur that comfortably accommodates seven and all their equipment.
"The long-term aspect of this, along with using large-scale plots, should yield some new and useful data," Young said.