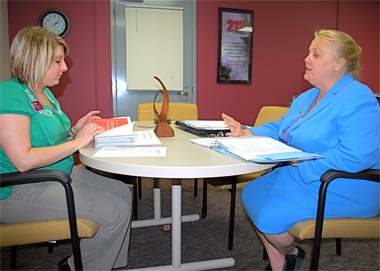 June 15, 2011
Ten questions with ... Beth Scally
Job on campus/department you work in: associate director of University Housing Education and Outreach

How long at SIUC: 20 years

Hometown: Brighton, Mich.

When you were a youngster, what did you want to be when you grew up? A spy -- I love mystery and intrigue.

People don't know that …I'm an identical twin.

If you could choose another profession, what would it be and why? A motivational speaker, I really love working with young people and working to help then discover their strengths.

What is something you still want to accomplish in life? Ski the Alps.

What was the first "album" you ever bought, and was it an LP, 8-track or CD? LP, Cat Scratch Fever by Ted Nugent!

What is one random fact about you? I love photography.

What is your favorite food and why? A Michigan Coney dog because it's fun and messy.

Who has inspired you, and how? Martin Luther King Jr. I am inspired by MLK because of his continual fight for what seemed the impossible. He had a goal and was willing to die for the goal. He believed in civil disobedience and not violence as a means to accomplish goals.

What is your pet peeve? One of my pet peeves is when people are negative. One of the freedoms we have that no one can ever take away is our ability to choose our attitude. Why would anyone choose to be negative?

What would you like your gravestone to say about you? She was a passionate, strong woman who loved.