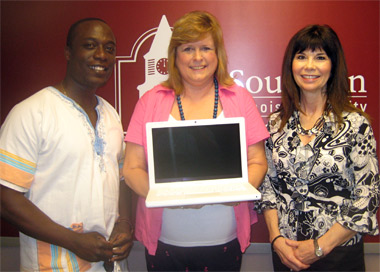 June 14, 2011
Master's student from Steeleville wins laptop
CARBONDALE, Ill. -- Completing her master's degree at Southern Illinois University Carbondale is going to be a bit easier for Kimberly Wall Guebert after winning a new laptop computer.
The Steeleville woman, currently working on her master's degree in the workforce education and development department (WED) in the College of Education and Human Services, recently won the Apple computer valued at $1,200. The Illinois state treasurer's office received a donation from Visa that it in turn used to purchase the computer for a worthy SIUC student, requesting that WED hold a competition to choose the winner.
The career and technical education faculty at WED created the contest and set up the entry criteria. Students submitted applications to Paul Asunda, assistant professor in WED and coordinator of the Career and Technical Education program, or Terre Eversden, family and consumer sciences lecturer. A CTE committee then chose Guebert's application as the winner.
Asunda said Guebert is working hard in pursuit of her degree and is deserving of the computer.
Guebert is an SIUC alumna, earning her bachelor's degree in accounting in 1983 at the University. She returned to school in the fall of 2010 to pursue her master's of science in education with the support of husband Barry and daughter Katerina. Guebert, the daughter of Donald and Bonnie Wall of Evansville, is also working as a course manager/teacher's assistant for the WED off-campus degree program as she continues her schooling.
The new computer will be very beneficial to her in her current position and with her studies, Guebert said.
"I am currently working on an older laptop and this will improve my Internet speed and enable me to use updated software," she said.
Guebert's goal is to complete her master's degree and initially teach business at the high school level and in the future at the college level.