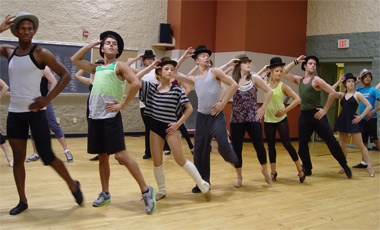 June 14, 2011
McLeod summer season opens with 'A Chorus Line'
CARBONDALE, Ill. -- The 2011 McLeod Summer Playhouse season opens June 17 with "A Chorus Line", the classic Broadway musical about Broadway.
The musical focuses on a group of dancers auditioning for a Broadway show. After the first cut, 17 dancers remain to compete for a total of eight parts, four male and four female. Zach, the director, demands to know a little about each auditioning dancer. The audience, therefore, learns some of the personalized back-story of the hopeful dancers, including difficult childhoods, battles against poverty and different levels of dancing success. The audience also learns about the passion and commitment each dancer brings to his or her craft, and how much dance means to the dancer as a means of self-expression and also escape.
Later in the play, an onstage accident leading to a possibly career-ending injury puts dance and love of the dance even more vividly in the spotlight as those at the audition imagine their lives without dance in it.
Overall, the production is described as being about dreams, living dreams and pursuing them.
"A Chorus Line" opened off Broadway in April 1975. However, demand for tickets was such that the musical moved to Broadway in late July 1975, where it remained until late April 1990. The musical received multiple Tony Award nominations, winning nine of them, and has captured other awards with subsequent productions.
The McLeod production features a cast of 25, chosen from a competitive, multi-venue audition process gathering some of the best young actors from the Midwest. Among the cast for this production are SIUC students Lawrence O'Neill (Marion), Jacob V. Hays (Carbondale) and Josh Kimball (Benton).
Kevin Bellie directs and choreographs, while Caitlin Entwistle handles costumes and SIUC's own Mark Varns manages sets and lights. Michael Hanes conducts the MSP orchestra.
This production is rated PG-13, with some adult language and thematic material that may be unsuitable for children.
The musical runs June 17-19 and June 24-26. Performances begin at 7:30 p.m., except the Sunday shows, which are 2 p.m. matinees. Tickets are $25 for general admission and $10 for students. Order tickets ahead at SouthernTicketsOnline.com, or by calling the McLeod Theater Box Office at 618/453-3001. Tickets are also available at the McLeod Theater Box Office and the Shryock Auditorium Box Office during standard business hours and also, at McLeod, beginning one hour before the performance begins.