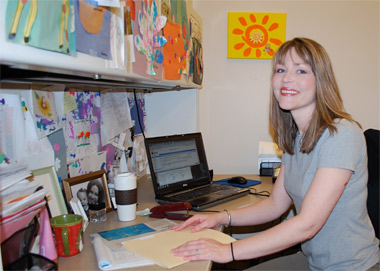 June 08, 2011
Ten questions with ... Mollie Horner-King
Job on campus/department you work in: Clinical instructor/behavior analyst with the Center for Autism Spectrum Disorders in the Rehabilitation Institute at the College of Education and Human Services.
How long at SIUC: Nine months
Hometown: Cookeville, Tenn.
When you were a youngster, what did you want to be when you grew up? A nurse.
People don't know that … I was a cheerleader growing up.
If you could choose another profession, what would it be and why? Something in art or literature because my hobbies seem to be rooted in these subjects.
What is something you still want to accomplish in life? I'm currently working on my Ph.D. in rehabilitation. I am "all but dissertation."
What was the first "album" you ever bought, and was it an LP, 8-track or CD? LP… Quiet Riot.
Cats or dogs? Dogs
What is your favorite food and why? King crab legs…I just like them.
What is your pet peeve? Bicycle riders who don't follow traffic laws.
Favorite cartoon character? Why? Foghorn Leghorn…He reminds me of my uncle.