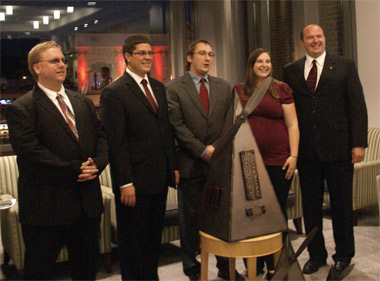 Soaring to the top -- Southern Illinois University Carbondale's Flying Salukis captured the 2011 National Intercollegiate Flying Association championship Saturday, May 21, at the conclusion of the weeklong event at The Ohio State University featuring 27 teams from across the nation. The title is the seventh in the aviation program's storied history, and first since 1984. Pictured with the national title trophy from left, are assistant coaches Kevin Krongos, Jeffrey Jaynes, Bryan Harrison, Sabrina Zwego, and head coach, Nathan J. Lincoln. (Photo provided) Download Photo Here
May 23, 2011
Flying Salukis capture national championship
CARBONDALE, Ill. -- Southern Illinois University Carbondale's Flying Salukis wrote a new chapter in the program's proud history on Saturday, May 21, by capturing the 2011 National Intercollegiate Flying Association championship.
With 10 team members scoring 414 points, the Flying Salukis won the title by nine points over two-time defending champion University of North Dakota in the competition at The Ohio State University Airport. It wasn't until the announcement of North Dakota as runner-up that the Flying Salukis knew they were returning to SIUC with an seventh national title, and the first since 1984.
"What a historic moment for our team, the flight programs and our University," Chancellor Rita Cheng said. "I'm sure all Salukis are inspired by the talent and dedication of the team members and coaches."
Earning the national title was "very emotional" for Nathan J. Lincoln, the Flying Salukis' coach and a 1997 and 1998 team member. The pride of "being a Saluki" extended to the department, his "excellent coaching staff," his current squad, and also to past Flying Saluki team members.
"I knew we had an extremely talented group of team members and I knew that they had the potential to place extremely high in the national competition," he said. "They performed well in all of the events that they were competing in."
Coming off a fourth-place national finish a year ago, the team finished second in the Region VIII championships in October, missing a fourth straight regional title by three points. The disappointing regional finish turned into resolve for the team, said Michael A. Carroll, one of three team captains.
"Coming into this competition we were all working well as a team and we came together," said Carroll, who scored 121 of his team's points -- a total that would alone tie him for ninth place in team scoring. Carroll, who is from Normal, was the top-scoring pilot in the nation and finished second for the national top pilot award.
Earning a national title is "an amazing feeling," said Carroll, who was set to earn his degree in aviation management in December, but earned a scholarship enabling him to take additional courses and continue as a student. "It feels so good to be part of an organization that has such a history, and it's a better feeling to know I helped contribute to another national championship for SIU."
The moment team members realized they won the national title was "surreal," Carroll said.
"It's a great thing not only for current team members but also the alumni, even for the alumni who were at the banquet, it meant so much to them," he said.
Lincoln was expecting a strong performance by Carroll, "an extremely talented competitor and somebody who has put his heart and soul into the flight team the four years he has been on it."
He emphasized, however, this was a total team effort.
"Everybody put a lot of effort into it," he said. "The amount of hours that are dedicated to preparing for a national competition is shared by the entire team."
David A. NewMyer, department chair, said the national title provides the University's already nationally recognized aviation programs with "very visible evidence" that they are among the nation's leading aviation degree programs. In addition to some national championship "bragging rights," it also "also allows us to celebrate our aviation students."
"They are the very best and this kind of performance under pressure shows the winning Saluki spirit is alive and well," NewMyer said.
The team placed in all 11 events in the 27-team field. The Flying Salukis were first in the flight events and second to North Dakota in the ground events. The results show the team balance, Lincoln said.
"Because of our balance we have on the team, we have students in each event who are competitive on the national level," he said. "It drives some of the success we've had."
There were seven ground events and four flight events. Ground events were computer accuracy, aircraft preflight inspection, simulator, aircraft recognition, simulated comprehensive area navigation (SCAN), crew resource management, and IFR (instrument flight rules) simulator. Flight events are power-off landing, short-field approach and landing, navigation and message drop.
In addition to Carroll's overall performance, the squad won three individual titles. Taylor M. Breum, a sophomore in aviation flight from Lake Villa, won the short-field approach and landing; Ryan C. Veldman, a junior in aviation management and flight from Lexington, Ky., won the power-off landing event; and co-captain Daniel S. Harrington, a senior in aviation management from Monee, won the SCAN title.
The team finished strong in several events. It was first, second and 18th in power-off landing; first, third, fifth and 18th in short-field approach and landing; third, seventh, and 12th in computer accuracy; first, eighth, and 10th in SCAN.
After the Flying Salukis and North Dakota, Embry-Riddle Aeronautical University-Prescott was a distant third with 271 points, followed by Western Michigan University, 212, and host, The Ohio State University, 197 points.
With the returning experience from a year ago, NewMyer was hoping for a finish among the top three in the nation. Capturing the title is "a very nice, unexpected surprise," NewMyer said.
"I am so proud of our student pilots and also very of proud of our faculty coaches. They accomplished something amazing together," NewMyer said.
The Flying Salukis' assistant coaches are senior lecturer Bryan T. Harrison, assistant instructors Jeffrey D. Jaynes, Kevin M. Krongos, Sabrina J. Zwego, and Kim Carter, a senior lecturer and academic adviser.
NewMyer notes the long hours the coaches put in "to help make this national championship happen." In addition to teaching all day as faculty members in the aviation flight program, they will then devote hours after their classes working with the team. Carter, the former award-winning head coach, brings more than 15 years national competition experience, as do Lincoln, Harrison, Jaynes, and Zwego.
In addition to their schoolwork, the team will meet regularly during the week and on weekends to prepare, Lincoln said. This year's team began working toward the title in mid-March, he said. The team competed in four Cessna aircraft, two Cessna 152s and two Cessna 172s, all owned by the University.
The program won seven national titles within a 10-year stretch from the mid-1970s to the mid-1980s. There were some differences from now -- there was no degree for aviation flight, and competition from other schools was not as organized as it is now, NewMyer said.
"But it was very difficult to win then, and it is very difficult to win now," he said. "Just like with athletic team competition that relies on the meshing of performances from a group of teammates, the Flying Salukis had to be running on all cylinders last week to make this happen.
"No one person won it," NewMyer said. "It was won by the fact that 10 different team members scored points. Had any of them not scored, we would have been second, third, or worse. This was an amazing feat."
The competition, May 16-21, marked the 41st time in 42 years the Flying Salukis qualified for the nationals. Recent history includes fourth-place finishes in 2005 and 2010, and fifth-place finishes in 2006 and 2008. The only time the national appearance string was broken, in 2007, was a shock, and remains a significant reminder, Lincoln said.
"It's something that I take very personally, and I strive to put into the team members the importance of what we do, and the pride we have in our aviation program," he said. "I try to remember the lessons learned from that year and make sure that we hopefully never make the mistakes again to show the aviation community how great our aviation program is."
Flying Salukis who scored in events also were Scott A. Blair, a senior in aviation management from Bloomington; David T. Brown, a senior in aviation management from Chicago; Ryan E. Buttney, a senior in aviation management from Lemont; Daniel B. McMahon, a senior in aviation management from Edina, Mo.; Joshua T. Mech, a sophomore in aviation flight from Sheboygan, Wis.; and Samuel W. Oas, a senior in aviation management from Villa Park.
Other Flying Saluki team members for the 2011 spring semester are:
Courtney L. Copping, a junior in aviation management and flight from St. Charles; Kyle E. Hayes, a sophomore in aviation flight from Bourbonnais; Justin E. Lopez, a sophomore in aviation flight from Bourbonnais; Michael J. Szemplinski, a freshman in aviation flight from Geneva; and George A. "Rusty" Wharton, III, a sophomore in aviation flight from Goodfield.
For more information on the Flying Salukis, contact Lincoln at 618/453-9250, or by email at nlincoln@aviation.siu.edu. More information on the University's aviation programs is available at www.aviation.siuc.edu/.