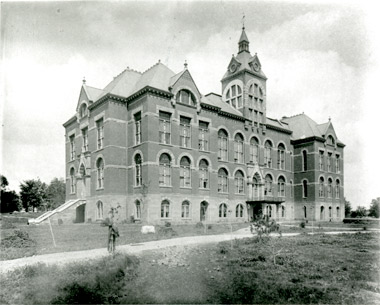 May 19, 2011
Library to host 'Remembering Old Main'
CARBONDALE, Ill. -- "Remembering Old Main," a summer happening at Southern Illinois University Carbondale, is both a celebration of a beloved part of the University's history and an effort to preserve memories.
Morris Library is hosting a pair of events in June celebrating Old Main, once the central building of the Carbondale campus. A presentation at 3 p.m. on June 8 in the library's John C. Guyon Auditorium will highlight the history, architecture and other aspects of the University's early structures. Speakers include John Parkinson, president of Image Architects, Inc. in Carbondale, and Jon Davey, architecture professor and distinguished faculty member at SIUC.
In addition, David Simmons, a St. Louis architectural historian, will discuss Thomas Walsh and Isaac Taylor, architects for the first buildings at SIUC. The event, scheduled on the anniversary of the fire that destroyed Old Main, is open to the public. A reception will follow in the library's Hall of Presidents.
Then event organizers encourage anyone who had an association with Old Main -- whether as a student, University faculty or staff member, or even as a firefighter who helped put out the flames -- to record your memories of Old Main for posterity. A WSIU-TV video crew will be at the library from 9 a.m. to 3 p.m. June 7-9 making the recordings. Contact Gordon Pruett at gpruett@lib.siu.edu or 618/453-1660 to schedule an interview time.
Pruett said the goal is to give personal voices to the building that served as the symbol of the University for more than 80 years. Plans call for archiving the oral histories in the Special Collections Research Center and the footage may become part of a larger video project about Old Main's construction and history.
"The library holds a wealth of information in the form of letters, blueprints and ledger pages that have never been included in any previous history of the University. And the recorded memories of those who remember the building will preserve it, in a sense, for future generations," Pruett said.
Old Main served the University from 1887 until the 1969 blaze. It was actually the replacement for Normal Hall, the first structure of what is now SIUC. Built in 1874 to house Southern Illinois Normal College, Normal Hall fell victim to a fire in 1883.
The Friends of Morris Library, in conjunction with WSIU-TV, are underwriting the "Remembering Old Main" event. For more information, contact Pruett at gpruett@lib.siu.edu or 618/453-1660.