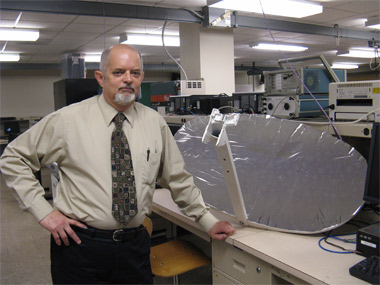 (Photos by Pete Rosenbery)
May 18, 2011
Ten Questions with ... Ralph F. Tate
Job on campus/department you work in: Interim Director and Associate Professor of the School of Information Systems and Applied Technologies.
How long at SIUC: Eight years
Hometown: Eldorado, Ill.
When you were a youngster, what did you want to be when you grew up?
An astronaut or a musician (John Glenn and the Beatles were my heroes)
If you could choose another profession, what would it be and why?
I would be a jazz musician so I could travel the world and share the true music of America.
What is something you still want to accomplish in life? Visit Africa, Antarctica and South America so I can say I've been to all continents.
People don't know that you … played in bar bands for 10 years and worked in a secret government research laboratory for 12 years.
Who inspired you and how? Mr. Ralph Gray, my junior high science teacher, provided me with opportunities to set up equipment and run experiments outside of science class. That ignited a passion for science and technology that allowed a poor kid from a small town to become an engineer and research scientist. Thank you, Mr. Gray!
What was the first "album" you ever bought, and was it an LP, 8-track or CD?
"Revolver," by the Beatles on LP.
If you could pick an actor/actress to play you in a movie, who would you pick, and why? Rowan Atkinson (Mr. Bean and Blackadder) because he was an electrical engineer before he became an actor, and there is a slight resemblance in features and demeanor.
What is one random fact about you? I drive an electric car to work every day that my 80-year-old dad and I built last year.
What is your pet peeve? People who don't appreciate an education.
What would you like your gravestone to say about you? Here lies a loving husband and father, and thanks for the fish!