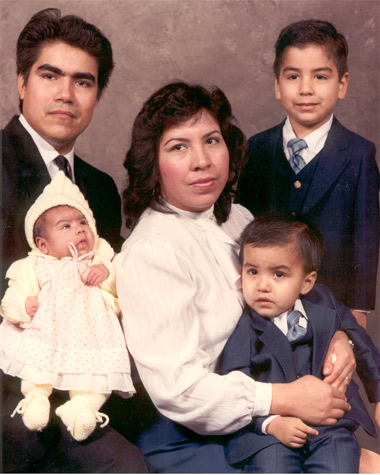 Fulfilling promises -- Mauro G. Arellano, Jr. will fulfill the promises to his family and a late uncle when he receives his bachelor's degree in Electronic Systems Technologies this weekend during commencement exercises at Southern Illinois University Carbondale. The U.S. Army Iraqi War veteran from Sterling is a first-generation college student whose parents came from Mexico in the 1970s. One of Arellano's favorite photos is a family portrait taken in 1985 when he was about five years old because it reflects the dreams and determination of a young family. Arellano is in the top right in the photo. Also in the photo is his father, Mauro G. Arellano, Sr., his mother, Carmen, younger brother Mariano, and sister, Isabel. (Photo by Pete Rosenbery; family photo provided) Download Photo Here
May 11, 2011
First-generation graduate fulfills promise to family
CARBONDALE, Ill. -- A wave of emotions will hit Mauro G. Arellano, Jr. when he receives his bachelor's degree in Electronic Systems Technologies Saturday, May 14, from Southern Illinois University Carbondale.
Arellano, a 31-year-old U.S. Army Iraqi War veteran from Sterling, is a first-generation college student whose parents came from Mexico in the 1970s to better their lives. For Arellano, the accomplishment will carry an even deeper meaning -- fulfilling a promise he made in the wake of a tragic accident nearly two decades earlier that killed a paternal uncle.
Arellano (pronounced Are-yano) was 11 years old when his uncle Robert died in a traffic crash. His uncle was one of eight people killed in the January 1992 crash of a van carrying workers returning home from their jobs at a meat processing plant in Joslin, an unincorporated community in Rock Island County, about 40 miles west of Sterling.
Arellano recalls vowing at his uncle's funeral to heed the advice of his parents, Mauro and Carmen Arellano, and his late uncle, to study harder. While neither his parents nor his uncle completed school beyond the fourth grade, each stressed the importance of not throwing away the opportunity to learn, Arellano said
Arellano will earn his degree, and then take a class this summer to earn a Committee on National Security Systems certificate. He plans to return to Sterling and hopes to work for the government in the security systems field. He also wants to be involved with a community service group that assists children with academics.
The degree will mean "a new life, a new era," Arellano said. "It's going to be a day like no other. Everything I have worked for is a journey that has come to an end. But that doesn't mean what I've done here has to end. "
After graduating from high school, Arellano served eight years in the U.S. Army, including two in the Army Reserve. He initially worked as an operator and maintainer with patriot missiles, and later as an information systems analyst. After four years in the military, Arellano, who initially attended Western Illinois University for one semester, transferred to SIUC in 2003 while with the reserves. While in school, he was also preparing for the Army's Signal Corps School.
SIUC's electronic systems technology program and the cost were attractive to Arellano. But he left school after one semester due to the demands of preparing for both Signal Corps School and his University classes. Arellano returned to Sterling and opened a computer repair business that initially flourished, but was later hurt by the economy. Arellano then returned to active duty to serve in Iraq with the 301 Area Support Group at Logistics Support Area Anaconda, now Joint Base Balad, one of the largest U.S. military bases in Iraq.
After serving in Iraq, Arellano returned to SIUC in fall 2008 to resume his education. With the experience that Arellano gained in information systems technologies while in the military, pursuing an electronic systems technologies degree enabled him to "cover a weakness I had and thought this make me more competitive," he said.
Arellano notes the struggles that his own father, who operates a landscaping business, has gone through since his family arrived in the United States.
When he was complaining one day as a youngster about picking vegetables for local farmers, Arellano recalls his father saying that to "live a good life," he had two options: either "work as hard as mule like me, or you can get an education and not work in hard labor." Choosing neither, the elder Arellano told his son, would lead to a life of crime.
Being the first college graduate in his family carries special meaning, Arellano said. His parents believed in the promise of their new country and became U.S. citizens shortly before Arellano was born in 1980.
"Through the tough times, my father would say to me that I was his strength; he could go through whatever he was going through because he could look at me and see what he has accomplished through me," Arellano said with watery eyes.
"He came to America with a dream," Arellano said. "I wouldn't say he necessarily got the dream, but he didn't lose it either. And through me, he sees like he has won it."
One of Arellano's treasures is a family photograph from 1985 when he was about five years old. Arellano, his parents, younger brother, Mariano, and younger sister, Isabel, look to the camera with smiles and pride.
"It's my family at the start of their American life," Arellano says of the photograph and his father. "When I see this picture I see professionalism. He's an honorable man, and taught me life's values.
"I see my father envisioning a dream," Arellano said.
Ralph F. Tate, interim director and associate professor of SIUC's School of Information Systems and Applied Technologies, said he is impressed with Arellano's desire to succeed in the face of obstacles that include being a non-traditional student.
In some respects, however, being a non-traditional student is a benefit, Tate said. Arellano is often the last person to leave the room when it comes to finishing exams because he believes in maximizing his time by thoroughly reviewing his tests. Arellano's working class family and military background bring out that attention to detail that some students don't necessarily have, Tate said.
Tate, a military veteran and also a first-generation college graduate, knows the feelings that Arellano and his family have.
"I tear up every time I see these kids walk across the stage, and you know their families are out there also experiencing this," he said.