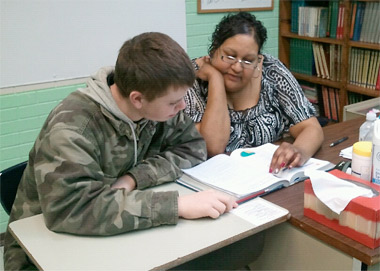 Student teaching -- Rocio Garcia works with Donnie, a Dongola High School student, while doing her student teaching this spring. Garcia will graduate from SIUC this weekend with a double major in elementary education and special education. (Photo provided) Download Photo Here
May 09, 2011
Graduation holds special meaning for single mom
CARBONDALE, Ill. -- Sometimes the pathway to a dream come true curves through unexpected places.
That's certainly been the case for Rocio Garcia, a single mother of three daughters who will graduate from Southern Illinois University Carbondale on Saturday, May 14.
"Throughout the years, my life has taken many different directions but one dream was always with me. I have wanted to be a teacher ever since I was a little girl," said Garcia, 37.
And now, Garcia will receive her diploma from the College of Education and Human Services with a double major in special education and elementary education.
Born in Chicago, Garcia moved to Southern Illinois during childhood. The twists and turns of life began when she had her first child, Genevia Garcia, while a senior in high school. She completed high school on time and kept her eye on the future. She took college classes, gave birth to second daughter, Tatayana Merriweather, and worked in a variety of jobs, all the while knowing she would someday get that diploma.
But then, life's challenges got even tougher. While pregnant with her third daughter, Destiny Merriweather, Garcia and her other two daughters were in a horrible head-on collision with a truck. The baby was fine but the others were seriously injured. Suffering from a broken hip and pelvis as well as badly wounded legs, Rocio tended to her family as she slowly recovered, moving from bed to wheelchair to walker along the way to walking on her own.
"I tried to be tough. I had to for my girls," Garcia said.
A few years later, she was back on track toward her goal, returning to Shawnee Community College with the blessing and encouragement of her mother, Mildred Garcia.
"I was excited, focused and ready to learn! My grades were great. I couldn't believe it!" Garcia said.
And then, the bottom fell out once again. Garcia's beloved mother died suddenly, just as Rocio prepared to take final exams in 2005. But that just made Rocio more determined than ever to complete her degree and live up to the faith her mother had in her. Rocio graduated from Shawnee with her associate degree and in 2007 came to SIUC, where she became part of the Grow Your Own program, enabling her to complete her bachelor's degree while still working and raising her family.
"The statewide Grow Your Own program makes it possible for paraprofessionals, often already working in schools, to become teachers. The program allows them to get their field experience in their own school districts where they understand the school culture and the needs of the students and the school district. Rocio and the other students in this program will be good teachers and because they are in their local school districts they are more likely to stay, which is good for the children and the schools," said Jan Waggoner, associate dean for teacher education in SIUC's College of Education and Human Services.
Garcia is the second Grow Your Own graduate at SIUC, Waggoner said.
"This is not a shortcut program by any means," said Janet Maggio, director for Southernmost Grow Your Own, the downstate Grow Your Own (GYO) program. Graduates must complete all of the same requirements for the teacher education program.
Maggio said GYO came to the region in 2007 after kicking off a couple of years earlier in the Chicago area. It's a state-funded initiative in which a community organization, in this case, the non-profit FoCUS of Southern Illinois, serves as the lead agency, channeling the funding and overseeing the program.
The goals of GYO are tri-fold, according to Maggio. The program seeks to increase the number of racially diverse teachers in Illinois while also increasing the number of teachers willing to work at and remain in difficult-to-fill teaching positions in school districts that typically have difficulty retaining teachers. In addition, there is emphasis on getting teachers to fill frequently needed teaching positions including special education, bilingual education, science and math.
SIUC and Shawnee Community College are partners with several area school districts in the FoCUS Southernmost GYO program. There are currently 14 participating districts, primarily in Alexander, Johnson, Massac, Pulaski and Union counties, and plans call for adding other schools, including Carbondale, if state funding allows in the future.
Some Southernmost GYO students have college credits when entering the program while others do not, but all must meet the admittance standards for college, Maggio said. Many complete their associate degrees at Shawnee before going to SIUC to earn their bachelor's degrees. About half have classroom experience as teacher aides but virtually all have some experience with children -- as preschool teachers, scout leaders and so forth. Nearly 100 percent are employed, most full-time.
"The main requirement is that they have roots in the community and an involvement in and commitment to the community," Maggio said.
GYO students participate in night, weekend and summer classes. After students seek all other available financial aid, the progam kicks in, covering up to seven credit hours of classes along with a book stipend of up to $200 each semester. Each candidate can borrow up to $25,000 to complete their degree and if the student obtains their teaching certification and works five years in a hard-to-serve school, the loan is forgiven, Maggio said. GYO also provides assistance with child care, tutoring and transportation, but one of the most important elements is the moral support from the program's faculty, staff and other participants, she said.
"It's really an amazing program for students from rural areas," agreed Paige Maginel, Garcia's GYO supervisor. Maginel said the program is a great boost for participants but they also must put forth the effort to succeed.
"We are very proud of Rocio and her accomplishments. She has worked hard to do this and should be proud of herself. She's worked diligently to achieve her goal and obtain her degree," Maginel said.
"This really is a non-traditional program" and the nature of the program along with a lot of determination and hard work helped Garcia succeed, Maggio said.
"I admire her. She has overcome so many obstacles -- her car accident, her mother's death, her initial fear of computers and everything else she's gone through and yet she stayed focused on her goal and look at her now. She's always wanted to be a teacher and she's graduating with a teaching degree," Maggio said.
Garcia said it hasn't always been easy. She's maintained a job in Missouri, working 12-hour shifts on the weekends assisting developmentally disabled adults while going to school and raising her daughters, now ages 20 (and a college student herself), 15 and 13.
"It's been hard, very complicated at times. There have been a lot of late nights and early mornings. But I've just worked hard and persevered. I am thankful to everyone in the program for being so encouraging and helpful," Garcia said.
Garcia has been student teaching at Dongola both at the high school and lower elementary school levels this semester and said she has thoroughly enjoyed working with children from her hometown.
"I've always been interested in education, working as an aide and a substitute aide at schools in Meridian, Egyptian, Cairo and at Shawnee High School. There were times when I wondered if I could get my degree. I was unsure of myself and scared when I started. But with the understanding and help of Paige and the GYO program and the participants, I just put forth the work and made the commitment to finish. I am grateful to everyone who has helped me in my educational journey and I plan to give back and teach and work in my community. I want to show the students of this area that with dreams and aspirations comes commitment. Yes, I did it and so can you!" Garcia added.