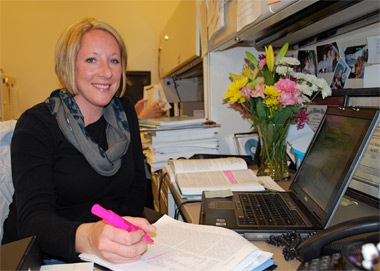 (Photos by Christi Mathis)
May 04, 2011
Ten questions with ... Leigh Grannan
Job on campus/department you work in: Board-certified behavior analyst and clinical instructor at SIUC's Center for Autism Spectrum Disorders (CASD)
How long at SIUC: Earned master's degree at SIUC in 2004; worked at CASD as an instructor for a total of six years
Hometown: Memphis, Tenn. (family lives there currently)
When you were a youngster, what did you want to be when you grew up? I always talked about being a pediatrician but loved to play "school" a lot.
What is something you still want to accomplish in life? I'd like to become the director at a clinic.
What was the first "album" you ever bought, and was it an LP, 8-track or CD? I'm sure I didn't buy it but the furthest back that I can remember was owning Cyndi Lauper and Madonna "True Blue" cassettes.
If you could pick an actor/actress to play you in a movie, who would you pick and why? It would definitely be Marilyn Monroe. I'm such a fan!
What is one random fact about you? My favorite beverage of all time is a nice glass of cabernet sauvignon.
Cats or dogs? Definitely dogs! I'm the proud owner of Sugarbear. She was abandoned at some apartments and I've had her for seven years now.
What is your favorite food and why? Strawberry cake with strawberry icing. I have it every year for my birthday and try to not eat it the rest of the year.
What is your pet peeve? People who lack a wide range of interpersonal skills.
What would you like your gravestone to say about you? "She did some good things and had some GREAT times!