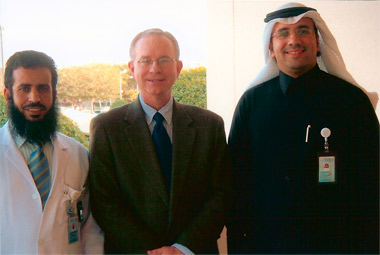 International collaboration -- Michael L. Grey, center, an associate professor in the Radiologic Sciences Program at Southern Illinois University Carbondale, was in Damman, Saudi Arabia, to discuss the possibility of radiologic technologists at King Fahad Specialty Hospital coming to SIUC to receive additional training on advanced topics in magnetic resonance imaging (MRI). With Grey are, from left, Abdulrahman Marzoug Al-Mutairi, and Faisal Al Mubarak, who are with Saudi Arabia's Office of International Collaboration. (Photo provided) Download Photo Here
May 03, 2011
Saudi medical professionals may train at SIUC
CARBONDALE, Ill. -- Work by an associate professor in the Radiologic Sciences Program at Southern Illinois University Carbondale could open the door for medical professionals in Saudi Arabia to receive additional training here.
Michael Grey recently met with officials at King Fahad Specialist Hospital in Damman, Saudi Arabia, about the possibility of radiologic science technologists from that facility coming to SIUC to receive advanced MRI training.
Hospital officials contacted Grey after his current and former students shared their experiences at SIUC with fellow Saudis who are in the health services and health care professions field in Saudi Arabia, said Phillip Lindberg, assistant director of the International Students and Scholars at SIUC. Lindberg also went on the trip with Grey in February to address any immigration and international student questions there might be.
Grey is initially proposing a short-term, post-baccalaureate certificate that experienced technologists from Saudi Arabia could receive after completing coursework in a summer and fall semester. Grey is awaiting University approval, and he has met with officials at five hospitals in Paducah, St. Louis and Springfield where the necessary equipment is available. Each of the hospital officials Grey spoke with expressed initial interest, but need to discuss it further, Grey said.
The students will enroll at SIUC and complete coursework on campus during the summer before going to area hospitals to gain hands-on experience during the fall semester. The plan will work in particular because current SIUC students in the radiologic sciences program gain practical experience in hospitals in the spring and summer, Grey said.
Grey said there initially could be about 10 students in the program. While he could begin the program in July, Grey said it is likely more feasible to start in July 2012.
The Radiologic Sciences Program is in the School of Allied Health within the College of Applied Sciences and Arts.
Families in Saudi Arabia are seeking better health care, and King Abdullah bin Abdulaziz
is spending an "enormous amount of money upgrading facilities in the health care field," Lindberg said. The 650-bed hospital specializes in oncology and is working on cancer prevention and treatment, he said.
Grey anticipates that a King Fahad Specialist Hospital administrator will visit SIUC next month. Grey also hopes the administrator can meet with Dr. J. Kevin Dorsey, dean and provost of the SIU School of Medicine, and medical staff there to "explore the potential for a working relationship between their oncology folks and our oncology folks."
Lindberg said he and Grey took a comprehensive tour of the King Fahad Specialist Hospital, which is a comprehensive facility with a focus on oncology. The primary focus of the discussion involved advanced training in MRI (magnetic resonance imaging) and CT (computed tomography) technologies, he said.
"This is an honor for them to be knocking on our door," Grey said.
Lindberg said students will be admitted the same as other international students now at SIUC, and will be required to meet standards of the radiologic sciences program.
Grey said the invitation by Saudi Arabia to be involved with providing advanced training to Saudi technologists doesn't have to end there, and could extend elsewhere throughout the Middle East.
"This is a tremendous opportunity," he said. "What we are potentially starting with Saudi Arabia could open up to others around the world."
And while in Saudi Arabia, Grey learned how small the world has become. He was treated in the hospital's emergency room for a sinus issue and the nurse practitioner who treated him is originally from St. Louis.
"It's very obvious they have a strong interest in serving their people," Lindberg said. "They have state-of-the-art equipment and they want state-of-the-art training for their staff. That's why they want advanced training beyond what they have for their technical support."