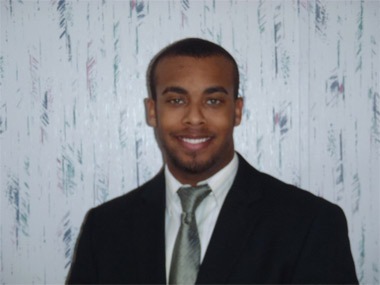 April 26, 2011
Hill honored for academic excellence, volunteerism
CARBONDALE, Ill. -- A student in the Health Care Management program at Southern Illinois University Carbondale earned recognition earlier this month for his academic excellence, volunteerism and leadership.
Michael S. Hill earned a certificate and monetary award from the Mid-America Healthcare Executives Forum during the organization's chapter meeting at the Marion Veteran's Administration Medical Center Recreation Hall.
Hill, a senior from Fayetteville, N.C., who lives in Herrin, is involved in a variety of activities both as a student on campus and community volunteer. A three-time dean's list selection, Hill's work includes completing an internship last fall at the Marion VA where he was involved with educating more than 200 medical staff on the Patient Centered Care approach. He is also an emergency medical technician with the Williamson County Ambulance Service, a basic life support instructor for John A. Logan College, and the education officer for Colleges Against Cancer, a registered student organization at SIUC.
Charla J. Lautar, professor and director of the School of Allied Health, said she first met Hill last fall in Chicago at a volunteer conference for the American Cancer Society, and "was very impressed by his communication skills and leadership abilities." SIUC's Health Care Management program faculty and staff, and his internship coordinator at the Marion VA, see those same qualities, Lautar said
Hill said it's an honor to receive the recognition from Health Care Management program faculty members.
"This distinguished award means I have the ability to apply myself in the real world, which is truly my goal in life," he said.
The coordinated efforts of Sandra N. Beebe, a senior lecturer and internship coordinator in the University's Health Care Management (HCM) program, and Shayla Leibowvitz, the medical center's internship coordinator, gave him the opportunity to apply himself, Hill said. Hill interned more than 300 hours in addition to his class load, he said.
Sandra K. Collins, associate professor and director of the Health Care Management program, said Hill consistently demonstrated his academic, leadership, and volunteer abilities "fluently and effectively throughout his HCM courses and his internship."
"The HCM program has many high-caliber students with exceptional promise," she said. "This recognition allows us the opportunity to showcase the talent that comes out of the HCM program."
There are approximately 300 students in the program split between the on-campus and off-campus options, Collins said.
Hill said his five-month internship at the VA medical center was "truly a rewarding experience." Hill said he worked with many people and the medical center's Patient Centered Care committee in investigating the approach to health care, and then helping educate staff in assisting the medical center's progression toward patient-centered care.
Hill credits Susan Fowler, a health systems specialist and designated learning officer at the Marion VA, for laying "a very stable foundation throughout my internship" as a mentor.
"I know without a doubt this achievement is based mostly in part from her guidance, personality,and glowing leadership. I tip my hat for the tremendous mentor she is," Hill said.
Based upon Hill's background and work, he is "outstanding, and is only starting what promises to be an extremely successful career," said Marla F. Beatty, president of the Mid-America Healthcare Executive Forum chapter. Beatty is also the administrator in the orthopaedics division in the SIU School of Medicine's Department of Surgery in Springfield.
The chapter is comprised of health care professionals who lead organizations including hospitals, health care systems, and other health care-related businesses, she said. The chapter encompasses Southern Illinois and extends from Rantoul to Indiana, west to Quincy, and south to Kentucky.
The American College of Healthcare Executives requires a "strong commitment" to continuing education and "encourages recognition of excellence in current and future leaders," Beatty said. The chapter recognizes a student pursuing health care management degrees at both SIUC and the University of Illinois.
Hill is the son of Rosemary and Nicholas Hill. Both of his parents were in the U.S. Navy; his father is a lieutenant commander stationed at Fort Bragg, N.C. A member of the Navy Junior Reserve Officer Training Corps while in high school, Hill plans to commission into the U.S. Navy in a few years. He will earn his bachelor's degree in May, and apply to SIUC's Physician Assistant program.
Hill said he chose the health care management program for the opportunity to "experience personal development."
"The ability to articulate to others, be confident amongst your peers, and the ability to work as a team member are all very powerful attributes that I could get out of the program," he said.
Hill is 15-year survivor of lymphblastic leukemia, and said his own medical history stays in the back of his mind.
"The energy I carry throughout life has been in part manifested through my bout with cancer," Hill said. "Tomorrow is never promised, and that philosophy has kept me very goal-oriented in all the objectives that I make for myself. The health care field will also be a vast and ever-expanding world. I hope to be part of this growing field and make an impact in health care that will honor my family and those who surround me."