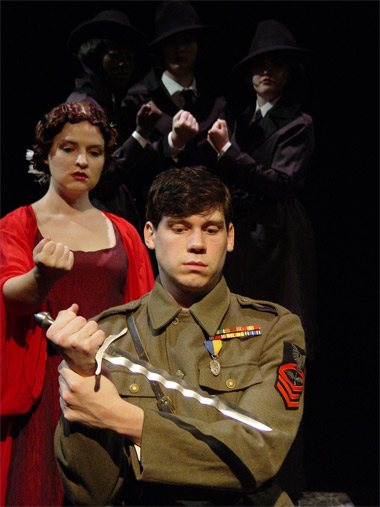 "If chance will have me king, why, chance may crown me." -- Macbeth (Benjamin Ponce) and Lady Macbeth (Susan Harrocks) contemplate regicide while the Weird Sisters (Sabreena Candreva, Arlicia Ketchum and Morgan Kopczynski) watch. (Photo provided) Download Photo Here
April 25, 2011
Theater department to stage 'Macbeth'
CARBONDALE, Ill. -- Madness, mystery and murder plus swordplay, political intrigue, witchcraft and ghostly visions -- all of it comes to one stage at Southern Illinois University Carbondale's McLeod Theater later this week.
The SIUC Department of Theater offers "Macbeth," one of Shakespeare's great tragedies, April 28 through May 1. Performances are at 7:30 p.m., except for May 1, which is a 2 p.m. matinee.
"Macbeth" may be one of Shakespeare's most famous plays, but it isn't one of the most commonly seen on stage because of the complexities of presenting it. Indeed, at SIUC, preparation for the play began months ago when, near the beginning of the academic year, Fight Master/Fight Director/Certified Teacher Richard Raether came to campus to teach a seminar in stage combat. Other preparations have included a weapons fabrication seminar and Shakespearean dramaturgy.
Director Segun Ojewuyi, associate professor of directing, said preparing for such an involved play has been a challenge, but also a "crazy, exciting time."
"It's not just the acting, it's also the costuming, the scenery, all of it is very involved," he said.
Why choose to present a play with so many built-in complications? The complications are part of the fun, he said.
"We are not just staging a production, we are also teaching," he said. "With this selection, we are teaching one of the best literary works ever as literature, but also in every aspect of the production. 'Macbeth' -- Shakespeare generally -- requires us to take our skills to the next level."
Ojewuyi said in a play of this nature, where the utmost is called for from every person on stage and backstage, the magic of the theater becomes startlingly clear.
"In rehearsals, as the actors are saying their lines, there are moments of sudden clarity," he said. "The actors realize that Shakespeare was showing us the inside of a person -- secret motives, fears, desires -- through actions as well as through words."
Lue Morgan Douthit, literary manager for the prestigious Oregon Shakespeare Festival, presents a discussion before the Sunday, May 1, presentation of 'Macbeth.' The lecture begins at 1:30 p.m. in the College of Mass Communication and Media Arts dean's conference room near the McLeod Theater lobby. The lecture is free.
The plot of 'Macbeth' centers on the regicide committed by the play's title character, aided and abetted by his wife, the Lady Macbeth, but the action is a framework for a story about ambition and power, fate and will, power and conscience.
The cast includes:
• Benjamin Ponce (Macbeth), Carbondale
• Susan Harrocks (Lady Macbeth), Murphysboro
• Sabreena Candreva (Weird Sister), Manteno
• Aaron Clark (Banquo), Urbana
• Kim Curlee (Duncan, King of Scotland), Carbondale
• Carl Herzog (Macduff), Carbondale
• Arlicia Ketchum (Weird Sister), Chicago
• Morgan Kopczynski (Weird Sister), Mokena
• Robert Price (Malcolm), Glen Carbon
• Lawrence Chiteri, currently of Carbondale
• Mitch Connoly, Morton
• Adam Floro, Marion
• Noah Guyton, Carbondale
• Josh Kimball, Benton
• Samantha Myers, Murphysboro
• David Parkman, Chicago
• Tom Seigrist, Taylorville
• Eric Sirota, Wheaton
• Alexandra Weinhold, Cape Girardeau, Mo.
Some of the many behind the scenes are: Ronald Naversen, professor in the Department of Theater, set production; Mark Varns, professor and chair of the Department of Theater, lighting; Jane Pivovarnik, teaching assistant in the Department of Theater, costumes; and special guest, Richard Raether, fight choreographer.
Tickets for 'Macbeth' are $16 for general admission, $14 for senior citizens, and $6 for students. Tickets are available at the McLeod Theater Box Office during business hours, by calling 618/453-6000 or at SouthernTicketsOnline.com.