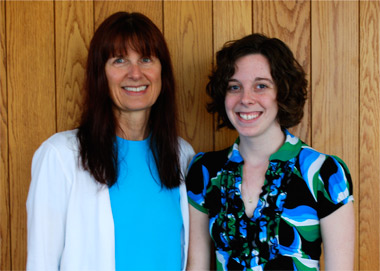 SIUC Student Employee of the Year -- Jodi Huggenvik, left, associate professor of physiology in the SIU School of Medicine-Carbondale, and the Southern Illinois University Carbondale Student Employee of the Year, Kelsey E. Jarrett, of Coulterville. Jarrett is a microbiology major, and will continue her graduate education at SIUC. (Photo by Andrea Hahn) Download Photo Here
April 13, 2011
Jarrett named SIUC Student Employee of the Year
CARBONDALE, Ill. -- Southern Illinois University Carbondale honored outstanding student employees today (April 13) at a breakfast recognition ceremony.
Kelsey E. Jarrett, a senior from Coulterville majoring in microbiology, is this year's Student Employee of the Year. Finalists were Phillip Booker, an elementary education major from Maywood, and Kimberly Sriner, a graduate student from Springfield majoring in educational psychology.
Jarrett works in Jodi Huggenvik's molecular biology and physiology laboratory. Huggenvik is associate professor of physiology in the SIU School of Medicine-Carbondale. She said that in 17 years at SIUC, this is the first time she ever submitted a nomination for SIUC Student Employee of the Year.
"(Jarrett) contributes so much to our lab," she said during the awards ceremony. "She not only does what she is assigned to do, but she anticipates what I want done and she does it. I don't think of her as an employee -- she is one of our research team."
Jarrett is a Presidential Scholar and a member of the University Honors Program. She is also a member of the Marching Salukis and the SIUC Pep Band. She helps her fellow students as a tutor. Her ability to teach and mentor her peers made her a natural for teaching laboratory protocols to fellow laboratory workers and volunteers. Though her work and activities leave little to no time for simple recreation, Jarrett said she loves her job precisely because of the opportunities to learn, to teach and to do.
"I've learned nearly 20 protocols," she said. "Most undergraduate students learn only one, and even graduate students often have the chance to learn only four or five. This is why I love working in the lab. I came here to SIUC to do research and I'm doing it. I looked at other schools, but here at SIUC, the professors immediately took me to their offices and showed me their labs."
Jarrett will continue her studies at SIUC as a graduate student.
Booker also received special recognition during the ceremony. Booker works in the information desk in the Student Center. Lisa Lambus, retail sales supervisor, said she nominated Booker for the award because of his willingness to handle any job or task that comes his way, saying that Booker "pretty much is the information desk."
Booker said his daily tasks might include technical work, training and orientation for new employees, or helping new students maneuver their way around campus.
Finalist Sriner was unable to attend the recognition ceremony.
Terri Harfst, interim director of financial aid, noted that campuses around the nation take a week in April to thank their student employees. She described her own experience as a student employee at SIUC and how her work at the Student Recreation Center helped her build her resume -- even though she was not a recreation major.
"Student employment is not just an opportunity to earn some money," she said. "It's proven that student employees have higher grade point averages, better adjustment to campus life, more involvement in campus activities and a higher retention rate."
John Nicklow, interim assistant provost, echoed her statements, saying, "The experience from the jobs you have now you will use in your future, they will impact your career."
SIUC employs approximately 4,000 student employees, with an annual payroll of nearly $12 million.
Other nominees were:
• Phyllis A. Allen, Recreational Sports and Services, Jerseyville
• Steven Lee Awe, School of Architecture, Hampshire
• Bradley W. Bowling, Educational Psychology and Special Education, Monmouth
• Danielle E. DeJaynes, Department of History, Galesburg
• Elisabeth Doyle, Mass Communication and Media Arts, Murphysboro
• Stephanie Duknoski, Undergraduate Admissions, Carbondale
• Brian Gurley, Mining and Mineral Resources Engineering, Galatia
• Ali R. Holford, Bursar's Office, Du Quoin
• Bobi James, School of Law Library, Carterville
• Stephanie Kippenberger, University Housing, Waterloo
• Hannah Leonard, Aviation Technologies, Pinckneyville
• Mallory Lindberg, Records Management, Carbondale
• Sierra Makepeace, College of Business, Carbondale
• Crystal McDaniels, Event Services, Mount Carmel
• Summer Marshall, College of Science, Springfield
• Christina Minton, Department of Management, Wheaton
• Morgan Price, Registrar's Office, Leroy
• Cleveland Rayford II, Office of the President, Carbondale
• Kristalynn Raymond, College of Agriculture, Alhambra
• Jenny Sexton, University Farms, Ava
• Reginald Whiten, Health Education and Recreation, Chicago
• Danielle Williamson, Department of Cinema, Roscoe