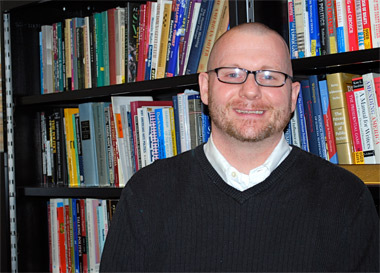 (Photos by Andrea Hahn)
April 06, 2011
Ten questions with ... Scott D. McClurg
Job on campus/department you work in: Associate Professor of Political Science
How long at SIUC: 10 years
Hometown: Florissant, Mo.
When you were a youngster, what did you want to be when you grew up? At one point I wanted to be Air Force pilot/architect/lawyer, all at the same time. Alas, it wasn't to be.
People don't know that … I met my wife when she was 14 and have been dating her ever since. (It's OK, I was 16!) Also, when I'm working I'm usually listening to rap music. Weird for a suburban kid who went to college in Kansas.
What is something you still want to accomplish in life? I'd like to have my research used to improve the state of our democracy. I have lots of ideas… just waiting for the president to call.
What was the first "album" you ever bought, and was it an LP, 8-track or CD? Ha! It was Rockwell's "Somebody's Watching Me." It was a cassette tape.
If you could pick an actor/actress to play you in a movie, who would you pick and why? Hmmn… as a kid I was compared to Anthony Michael Hall. I'd go with a youthful version of him, even though I don't think that's a very flattering comparison.
What is one random fact about you? I'm obsessed with cooking. I'm the only person I know who gets tools and cooking equipment at every birthday.
Who has inspired you, and how? I've been inspired by two college professors of mine -- Robert Antonio (sociologist) and Al Cigler (political science), both excellent teachers who had the patience to harness my frenetic energy and focus. I've also always been inspired by the fictional character Edmund Dantès, also known as the "Count of Monte Cristo." I love his never-give-up attitude and attempt to master self-discipline.
What is your pet peeve? A lack of common courtesy.
What would you like your gravestone to say about you? Why are you reading this, McClurg's dead already. Go live, would ya?
Favorite cartoon character? Why? Perry the Platypus. Phineas and Ferb is pure genius, and this is easily the best character on the show.