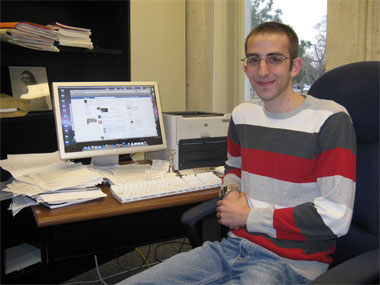 Prestigious honor -- Southern Illinois University Carbondale student Derreck Langwith will present his research involving social media, online comments, and existing slander and libel laws next month in Washington, D.C. Langwith, a senior majoring in linguistics from Sparta, will participate in the 2011 "Posters on the Hill," on April 13. Langwith is one of just 74 undergraduate students nationwide chosen by the Council on Undergraduate Research to present at a poster session to members of Congress, congressional staff members, government officials, and others. (Photo by Pete Rosenbery) Download Photo Here
March 23, 2011
Student earns 'Posters on the Hill' distinction
CARBONDALE, Ill. -- From Facebook messages to "tweets" on Twitter, the explosion and use of social media for sharing everything from gossip and accomplishments to complaints and snide comments continue to grow.
Derreck Langwith, a senior in linguistics from Sparta, applied his interest in today's social media, the First Amendment and research on existing slander and libel laws, to earn a spot in one of the nation's most prestigious undergraduate research forums.
Langwith is one of only 74 undergraduate students nationwide chosen by the Council on Undergraduate Research to present their research at the 2011 "Posters on the Hill" on April 13 in Washington, D.C.
Langwith will make his presentation during a poster session in the Rayburn Office Building, which is near the Capitol. The presentation is to members of Congress, congressional staff members, federal government officials and others, according to the undergraduate research council's website. Nearly 700 undergraduate students applied.
"The selection process for 'Posters on the Hill' is extremely competitive, and we're very proud of Derreck's accomplishment," Chancellor Rita Cheng said. "This achievement speaks to his dedication not only to his studies, but to advancing knowledge, and to the important role of our faculty in mentoring our students."
Langwith is in the University Honors Program, has participated in a study-abroad program in Nagoya, Japan, and is a representative to the College of Liberal Arts' Council.
It was in an Honors-level course on the First Amendment in fall 2009 taught by William H. Freivogel, director of SIUC's School of Journalism, which sparked Langwith's interest in the topic.
"I grew up with the Internet so I guess it has a special place in my heart," Langwith said. "When I read about cases of people suing over Twitter, it didn't make sense to me. It's not a published academic article, it's not a professionally written article by a journalist. To me, it's almost someone speaking out loud to themselves."
The final paper was so provocative that Freivogel encouraged Langwith to pursue it as a research project this year. Langwith thought it would be interesting to use linguistic tools to see whether language used in Internet posts from often informal discussions through e-mails, instant messages, chat rooms and social networking websites can be categorized by its formality, said Freivogel, one of Langwith's mentors.
With the rise of social media in the last decade, there seems to be no clear answer as to whether online comments are libel or slander, Langwith said. Current lawsuits that involve online defamation seem to go to a standard for libel, or written defamatory statements. But Langwith contends that some forms of online communication are closer to spoken defamation, or slander.
Some instances should fall into a category where the comments are neither slander nor libel, and akin to what Freivogel calls "over-the-back fence" talk.
The research has importance in today's world, where a flip comment can lead to serious consequences. Langwith's interest started with a libel case involving a Twitter post a few years ago by a woman who complained about her moldy apartment. The firm that managed the property sued, but a judge dismissed the lawsuit because the tweet was too vague to meet legal standards of libel, according to media reports.
"The social media has become such an important part of free expression and such an important part of the press … how law and society deal with free expression on social media sites is really important," Freivogel said.
Much of today's free speech controversies involve "almost spontaneous expressions" on social media sites that in some ways are more analogous to what people discuss in a bar or write in a diary locked away, Freivogel said.
People did not get suspended, fired or prosecuted for what they told neighbors "over the back fence," Freivogel said. "Should the law treat things said on Facebook the same way as something printed in a newspaper?"
Langwith is a first-generation student and the first in his immediate family to attend college. His father, Donald, is a disabled Vietnam veteran and his mother, Loretta Stork, has worked retail her entire life, Langwith said. His parents are "both incredibly excited" with the honor, Langwith said.
Langwith will graduate in May with a bachelor's degree in linguistics that focused on teaching English as a second language. He hopes to go to South Korea to teach English for a year or two, and then attend graduate school, but is undecided on education or linguistics.
"Ever since I've entered I've taken it very seriously," Langwith said. "It's a lot of money and my family didn't have a lot to spend. I had to keep my grades up to get financial aid because if not, I would be swimming in debt.
"I've always treated it as an opportunity I was given because the rest of my family didn't have that opportunity," he said. "School always takes priority over almost everything else right now."
Freivogel said it is gratifying to have a student take a class, and then go beyond the class to develop a research project from it "that can have some academic and possibly down the road some practical value."
"It's great to have a student who is a first-generation college student for whom school is the most important thing," Freivogel said.
Alan C. Vaux, dean of the College of Liberal Arts, said Langwith is a "first-rate" student actively engaged with University life.
Langwith is an undergraduate research assistant for Paul McPherron, an assistant professor in the Department of Linguistics. McPherron said Langwith is working with him on two different projects -- creating a website that hosts digital stories created by English language learners in China, and helping find literature relating to a case study project on foreign teachers of English in China. Some of the interviews with teachers in China will be through Skype, McPherron said.
McPherron said he and Langwith will present the website on digital stories and how to use them in an English classroom at the Teachers of English to Students of Other Languages (TESOL) international conference this week in New Orleans.
"This is the largest and most prestigious conference to present at in the field of TESOL," McPherron said.
Langwith is one of two students in the Department of Linguistics who will receive the department's Undergraduate Achievement Award during Honor's Day ceremonies next month This year's award went to students who completed a majority of their courses and maintained a cumulative grade point average of more than 3.9.
"We in the College of Liberal Arts are very proud of Derreck's accomplishment," he said. "Selection to 'Posters on the Hill' is very competitive and a significant honor."
Langwith's success "shows that SIUC students' scholarly work competes with the best in the country," said Gary P. Kolb, dean of the College of Mass Communication and Media Arts. "His collaboration with Professor Freivogel is an outstanding example of the kind of success that is bred by our unique undergraduate research programs."
Lori Merrill-Fink, an associate professor in theater and director of the University Honors Program, said Langwith's selection to "Posters on the Hill" is the second for the program since 2009.
"It is indeed an honor to be selected," she said. "The University Honors Program is very proud of Derreck's work and grateful for the mentoring he has received from Professor Freivogel. Derreck is in the top 10 percent of the applicants who applied for this prestigious and highly selective honor."