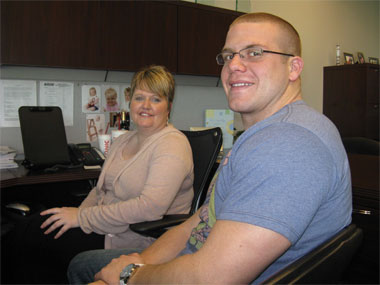 Guiding Saluki academics -- Kristina A. Therriault, associate athletic director-student services, assists football player Conner James with his application for 25 Most Distinguished Seniors. James, a senior redshirt linebacker from Mattoon, has a 3.58 grade point average in exercise science, and plans to attend graduate school in sports studies at SIUC. (Photo by Pete Rosenbery)
March 23, 2011
Ten Questions with ... Kristina A. Therriault
Job on campus/department you work in: Associate Athletic Director-Student Services
How long at SIUC: 15 years
Hometown: Menominee, Michigan-Upper Peninsula about 50 minutes from Green Bay, Wis.
When you were a youngster, what did you want to be when you grew up? An accountant
If you could choose another profession, what would it be and why? Even though I thoroughly enjoy my current position, I would love to be a detective or private investigator because mysteries, as well as crime and problem solving really interest me. I've already solved a few small cases.
What is something you still want to accomplish in life? Start my own family.
People don't know that you … are a lifelong Green Bay Packers fan until they come to my office and see my Brett Favre Fathead.
Who inspired you and how? I don't think I can name just one person who has inspired me since there have been many throughout the years, from family, friends, co-workers, and student-athletes. Their words and actions encourage me to stay strong and focused in the achievement of my goals.
If you could pick an actor/actress to play you in a movie, who would you pick, and why? Meg Ryan. Our sense of humor is similar.
What is one random fact about you? I placed fifth in the nation at an accounting competition when I was a senior in high school.
What is your pet peeve? When someone doesn't return phone calls or emails.
Favorite cartoon character? Ziggy. He was usually one step behind, one nickel short, one lane away from the fast lane. He was my favorite because everyone feels like Ziggy now and then and he loved animals.
What would you like your gravestone to say about you? Lived a Blessed Life Surrounded by Wonderful Family and Friends.