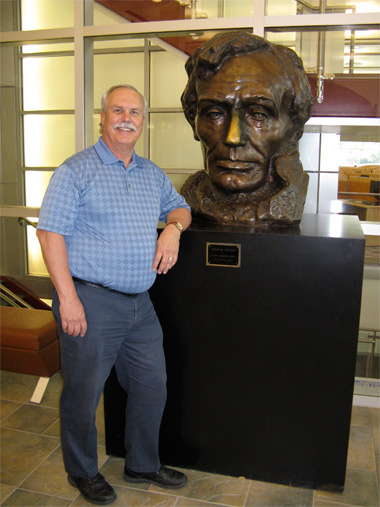 Photos by Christi Mathis. Carter is pictured with Morris Library's Abraham Lincoln bust, a gift from Philip D. Sang that sits near the front entrance. The inscription includes the wording "Gutzon Borglum, 1908."
March 09, 2011
Ten questions with ... Howard Carter
Job on campus/department you work in: Acting Associate Dean for Support Services and Manager of Instructional Support Services in Library Affairs.
How long at SIUC: Ten years.
Hometown: Ventura, Calif., but that was 40 years and a million miles ago, really.
When you were a youngster, what did you want to be when you grew up? A foreign service officer specializing in cultural exchanges. I've always felt that if people understood each other's cultures, they would be better able to see their similarities and accept their differences.
People don't know that: I appeared in a made-for-TV movie, "Disaster at Silo7."
If you could choose another profession, what would it be and why? Tour guide. I love to travel and see different places and people. I'd love to show others the things I have seen and done (some of them, anyway).
What is something you still want to accomplish in life? I've been to all of the continents except Antarctica. Someday, I'd like to go there and stop in Tahiti and Bora Bora on the way back.
What was the first "album" you ever bought, and was it an LP, 8-track or CD? "We Five" album.
What is one random fact about you? I own a 1955 Thunderbird.
Who has inspired you, and how? My mother: for her grace, humor, service and love of life-long learning.
Favorite cartoon character, and Why? Mickey Mouse. He has helped me not take myself too seriously for many years (he's been riding my wrist for nearly 25 years).
What would you like your gravestone to say about you? "He had an E-ticket and he got a whole ride."