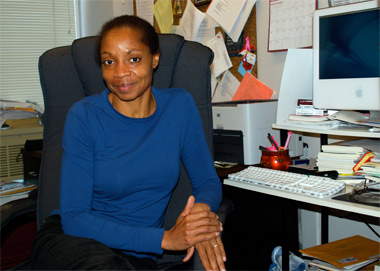 (Photos by Andrea Hahn)
February 16, 2011
Ten questions with ... Allison Joseph
Job on campus/department you work in: Director of the MFA Program in Creative Writing
How long at SIUC: This is the start of year 17
Hometown: Born in London, England, raised in Toronto, Canada and the Bronx, N.Y.
When you were a youngster, what did you want to be when you grew up? A writer. I always knew words were my fate and destination.
People don't know that you … Write fiction. I'm known primarily as a poet.
If you could choose another profession, what would it be and why? Singer/songwriter
What is something you still want to accomplish in life? To complete a half-marathon (13.1 miles). I'm a newbie runner.
If you could pick an actor/actress to play you in a movie, who would you pick and why? S. Epatha Merkerson
What is one random fact about you? I can't drive. I grew up in New York where there was no need to learn. I tried to learn here, but I crashed the driver's ed vehicle.
What is your favorite food and why? I love all sorts of Asian food, but there's a soft spot in my heart always for NYC pizza.
Who has inspired you, and how? My husband, Jon Tribble. His dedication to writers and literature astounds me.
What would you like your gravestone to say about you? She loved life, words and music.
Favorite cartoon character? Why? Bugs Bunny, hands down. He was the original drag queen.