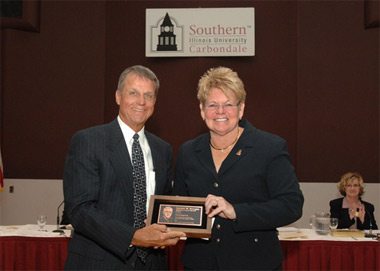 Prestigious honor -- Diane Daugherty, right, the Southern Illinois University Carbondale women's golf coach, receives the 2011 Lindell W. Sturgis Memorial Public Service Award from SIU Board of Trustees Chair Roger Tedrick during the board's meeting today (Feb. 10) at the SIUC Student Center. (Photo by Russell Bailey) Download Photo Here
February 10, 2011
Daugherty wins Sturgis award for public service
CARBONDALE, Ill. -- Diane Daugherty's enthusiasm is infectious. From 25 years as coach of the Southern Illinois University Carbondale's Women's Golf team, to her work helping establish an area no-kill shelter and her support of several community events, Daugherty has a love of life.
Her community service and efforts on behalf of the University today (Feb. 10) earned Daugherty the 2011 Lindell W. Sturgis Memorial Public Service Award. The SIU Board of Trustees presented the award and plaque to Daugherty during a ceremony at the Student Center. Her name will also go on a permanent plaque hanging in the Student Center.
"I'm stunned and humbled," Daugherty said upon learning of the award. "When Chancellor (Rita) Cheng called me I was really shocked."
Daugherty is widely known for her championship women's golf team. The three-time Missouri Valley Conference Coach of the Year has guided the Salukis to three conference titles, and five second-place finishes. Her teams also captured two Gateway Conference titles. She also found success as a part-time touring professional.
But Daugherty's work away from the golf course is emblematic of her commitment to the community, said nominator Kathy Jones, a senior associate director of athletics at SIUC.
Daugherty is a past board member of the Southern Illinois Regional Social Services (SIRSS) and since 2002, has hosted an annual golf tournament that raises approximately $5,000 annually for the organization. She helped found the St. Francis-Community Animal Rescue and Education (CARE) shelter in 2004, and is currently the board's president. Daugherty has served as "Mistress of Ceremonies" for the Carbondale Chamber of Commerce's annual dinner; and put her talents as an auctioneer to work for several worthy causes, including The Women's Center "Taste of Chocolate" fundraiser for six years, in addition to "Coaches vs. Cancer," "Inspiring Women Gala," and the "100 Men That Cook" charities.
Jones noted that Daugherty's many honors include the 2008 National Golf Coaches Association Founders Award for her contributions to golf. Since 1993, Daugherty has been co-director of the Hickory Ridge "Hook a Kid on Golf" clinic, which has attracted more than 1,000 children for a week-long clinic that aims to inspire a love for the game. She was also instrumental in bringing the Illinois High School Association Girls' State Golf Tournament to Southern Illinois in 2003, and was tournament director for five years.
"As SIU's golf coach, two of Diane's hallmarks are teaching life lessons to her student athletes and involving them in community service and fundraising activities," Jones wrote. "She leads by example and alumnae from her team come back in droves to support her annual golf team fundraiser."
Daugherty said it's important for her team to be involved in the community, noting they have "been given a wonderful opportunity to play Division I golf." With terrific community support, which includes $70,000 in private fund-raising for the program last year, the team has a chance to participate in annual spring golf tournaments in Hawaii or Arizona.
"My big drive with them is to be appreciative and learn to give back," she said.
Daugherty "does so much in this community and she gives so much of herself," wrote Michael Day, the head golf professional and manager of golf operations at Hickory Ridge Public Golf Center. He notes the annual kids' golf clinic -- which Daugherty said she has missed just once because of a surgery – and its impact on local youths. The program's goal is to teach kids who might not otherwise have the opportunity to play golf, but to also learn valuable life lessons that golf can teach, he said.
"The program is a lot of what Diane is made of -- integrity, honor and respect, which are three of the main components that we teach during our weeklong clinic … " Day wrote. "She not only makes a difference in the lives of the kids every year but she makes a difference in the lives of other instructors, myself included."
Karen Freitag, the SIRSS executive director, said Daugherty helps raise funds to support mental health and abuse services and the Big Brothers Big Sister mentoring program through the annual golf scramble, but is also a "true life mentor herself."
Dennis Kortkamp, president of Venegoni Distributing Inc., first met Daugherty about 15 years ago as they were walking their dogs. Without Daugherty's leadership as president, the work of the no-kill animal shelter would not be possible, he wrote.
"Her efforts, along with her enthusiasm and compassion have allowed her to be an effective fundraiser and role model for recruiting hundreds of volunteers," he wrote. "Many days you will find her feeding and cleaning at the shelter alongside with those giving their time. She is a leader by example. She has spent countless hours organizing anything to foster an awareness of the plight of the abused, abandoned and unwanted dog or cat.
"Thousands of homeless animals have been saved because of Diane's passion and dedication to this noble cause," he wrote. "Animals are adopted as far as Chicago through the connections Diane has continued to nurture with Petco."
Daugherty said the no-kill shelter is her passion, and the facility is making a difference in the region's unwanted and wanted pet population, she said. The shelter was able to hire a full-time veterinarian and the facility has done close to 2,000 spay and neuters in the past two years, and the facility averages about 40 dog and cat adoptions per month, she said.
Daugherty recalls her former boss, former SIU Women's Athletics Director Charlotte West would say Daugherty has two speeds – fast and off.
"I'm either going at something 100 percent or I'm out like a light," she said. "I look at everything as an opportunity to give 100 percent."
Daugherty, who began to play golf when she was three years old, would tag along with her parents to play the game. Daugherty's father passed away six years ago, but her mother, Dorothy, who is 90, was her guest at today's luncheon. Her mother was also present at the dedication of the Diane Daugherty Golf Facility at Hickory Ridge Public Golf Center in December. The facility features a combination indoor driving range and golf simulator for team practices in inclement weather.
"For her to still be here and share in this is really special," Daugherty said.
Daugherty recalls the early days of women's golf at SIUC. She arrived to a team, already conference champions, with sparse accommodations and gear. There were no rainsuits, the team's golf bags emblazoned with spray-painted "SIU Girl's Golf," and the uniform featured light blue shirts.
For Daugherty, who grew up in Centralia, Mo., what resulted was a labor of love starting at the ground floor, she said.
The goals started very, very small, beginning with the rainsuits. Then came in-season competition in Hawaii and Arizona, a locker room on the home course inside the Hickory Ridge clubhouse, and the indoor practice facility. The community support for the program has been vital, she said.
Early in her Saluki career Daugherty had opportunities to go elsewhere. But it never occurred to leave, she said.
"I fell in love with Carbondale; fell in love with SIU," she said.
Daugherty said the 25 years has gone by fast. She is a Facebook friend with most of her former players, noting that one just turned 40 years old. She has been a part of quite a few weddings and receives Mother's Day cards from them.
Having quality young women who are good citizens who earn their degrees is Daugherty's focus for her squad. Former players include doctors, attorneys and businesswomen, she said.
"My team has always been my team and family," she said. "It's been really a special, very quick life."