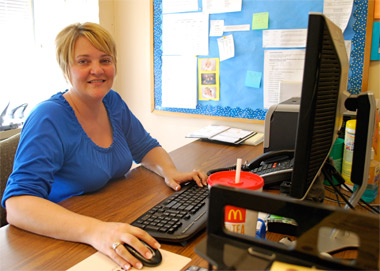 (Photos by Christi Mathis)
February 09, 2011
Ten questions with ... Cynthia Heisner
Job on campus/department you work in: Office manager, Paralegal Studies.
How long at SIUC: One Year.
Hometown: Pinckneyville.
When you were a youngster, what did you want to be when you grew up? Marine biologist.
People don't know that you … DVR three different soap operas.
What is something you still want to accomplish in life? I want to go to the Kentucky Derby, wear a great hat and win big!
What was the first "album" you ever bought, and was it an LP, 8-track or CD? Bon Jovi -- "Slippery When Wet."
If you could pick an actor/actress to play you in a movie, who would you pick and why? Drew Barrymore. We are close to the same age and when E.T. came out, everyone told me I looked just like her.
What is one random fact about you? I love old musicals. I named my daughter after Eliza Doolittle from "My Fair Lady."
Cats or dogs? Dogs.
What is your favorite food and why? Does Coca-Cola count?
What is your pet peeve? Bad manners.
Favorite cartoon character? Why? Donald Duck. Love to hear him talk.