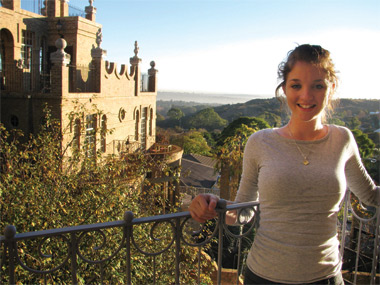 Student earns prestigious internship -- Makayla Trotter, a senior from Macomb majoring in geography and environmental resources at SIUC, will head to Washington, D.C., this fall as an intern for National Geographic in the education division. Trotter said her undergraduate research, including a research trip to South Africa and Mozambique (shown here), contributed to her successful application. (Photo provided) Download Photo Here
February 03, 2011
Student captures National Geographic internship
CARBONDALE, Ill. -- Southern Illinois University Carbondale senior Makayla Trotter, a geography and environmental resources major from Macomb, will head to Washington, D.C., next fall as a National Geographic geography intern in the Education Division. Her paid internship runs from Sept. 6 through Dec. 16.
"This is a very competitive and selective internship with an internationally known agency," Leslie Duram, chair of the Department of Geography and Environmental Resources, said, adding that selection by National Geographic is an honor for any student.
Trotter herself is over the moon at the idea of working for the National Geographic Society.
"I've been obsessed with National Geographic since I was a little girl," she said. "I think reading National Geographic as a young person was a big part of what made me fascinated by people and space, and those interests are what led me to choose geography as a major. This is a 'full-circle' kind of moment for me."
Trotter said she actually began looking at National Geographic internships as a high school student, but this is the first time she applied. She thanked her SIUC advisers for the encouragement they gave her during the application process.
"When I got the e-mail of congratulations from Karen Gibbs, the program director, I couldn't believe it," she said. "I'd been pretty certain I wouldn't get it, so I braced myself for that. When the e-mail came, I kept re-reading it, I couldn't believe it."
Trotter said she believes her research experience at SIUC and the overseas research opportunities available through SIUC contributed to her successful application. In 2009, she spent two months in South Africa and Mozambique, part of it as a dendochronology field assistant.
"Not many undergraduates get to experience hands-on research like that," she said.
In addition to the research travel, Trotter said she has maximized her research and educational opportunities at SIUC -- and she credits the breadth of opportunities with fueling her desire to learn even more.
"I've got this mindset where I'll try anything once, and I'm fascinated by a lot of things," she said. "I think that shows in my resume. In my three years here, I've studied all sorts of things, from tree rings to local foods to the Lakota Sioux to French, and I guess that diversity on my application helped to make it stand out."
Trotter said she is eager to pursue the opportunities this internship will undoubtedly open for her. Her involvement with the SIUC Sustainability Council and the Green Fund has piqued her interest in sustainability in higher education. This internship may well help direct her down that career path, or help her find another, she said.
"I'm really grateful to my department because they have been very supportive of me," she said, citing her research advisers Erin Seekamp in Forestry, Matthew Therrell in geography and environmental resources, and Chef Bill Connors in local foods and other sustainability issues.
The department is proud of her, too. Duram noted that Trotter is the first SIUC student to capture the prestigious internship.
"We are honored and so proud that our undergraduate student has been awarded this National Geographic internship," she said. "Certainly, this also speaks well of our faculty, and our program here at SIUC. I know that Makayla will be an excellent representative of our department and our University at the national level."
The focus of the Department of Geography and Environmental Resources at SIUC is environmental sustainability, climate and water resources, and geographic information science (GIS and remote sensing) at both the undergraduate and graduate levels. To learn more about the department, go to http://cola.siu.edu/geography/.