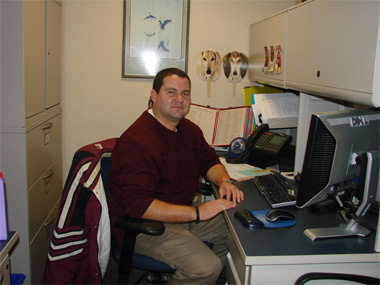 (Photos by Tim Crosby)
February 02, 2011
Ten questions with ... Jesse Wilham
Job on campus/department you work in: I am an office support associate in the Vice Chancellor for Research and Graduate Dean's Office.
How long at SIUC: I will have been here three years in April.
Hometown: Mt. Pulaski, IL
When you were a youngster, what did you want to be when you grew up? An Air Force pilot
If you could choose another profession, what would it be and why? Youth ministry. I absolutely love working with the youth department at our church.
What is something you still want to accomplish in life? I hope to have my master's degree in the next 3 to 4 years.
If you could pick an actor/actress to play you in a movie, who would you pick and why? Toby McGuire; because in high school when I had glasses my cousin thought he looked exactly like me.
What is one random fact about you? I am obsessed with SIU sports, the St. Louis Cardinals, and NASCAR.
What is your pet peeve? People who act fake in front of certain groups of people.
What is your favorite food and why? Chinese food.
Who has inspired you, and how? God, my family, and my youth pastor have really helped guide and direct into the person I am today.
What would you like your gravestone to say about you? Here lies a Godly man, who served Christ well.
Favorite cartoon character? Why? Bobby Hill, because I can understand a lot of what he goes through.