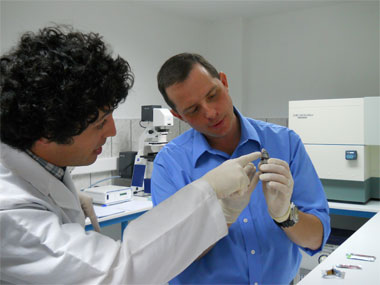 Setting a baseline -- Brian C. Small, right, associate professor of animal science, food and nutrition in the College of Agricultural Sciences at Southern Illinois University Carbondale, works with a small San Pedro fish in a laboratory in Chile. Small is working with a government-private research partnership in Chile to domesticate the San Pedro, a strikingly striped, flat-bodied rock fish. (Photos provided) Download Photo Here
January 31, 2011
Chile taps into researcher's aquaculture expertise
CARBONDALE, Ill -- A Southern Illinois University Carbondale fisheries researcher is helping a South American country bring a popular ocean game fish to more plates by farming them.
Brian C. Small, associate professor of animal science, food and nutrition in the College of Agricultural Sciences, is working with a government-private research partnership in Chile to domesticate the San Pedro, a strikingly striped, flat-bodied rock fish, a foot or more in length and up to a couple of pounds in girth, that serves as a popular guest on that region's dinner list.
"We really didn't know anything about these fish," said Small, who recently returned from a related research trip to Chile. "It's a wild fish that has been caught recreationally. It's got a good flavor, and people really like it. But how it tolerates living in tank environment nobody knows yet."
As a member of the University's Fisheries & Illinois Aquaculture Center, Small has both played host to a visiting researcher from Chile and traveled to the coastal country, where he helped establish some critical baseline research for the effort.
Much of his research effort revolves around finding out how the fish tolerate stress, a critical factor in aquaculture settings. Like humans, chronic stress in fish can lead to a host of problems, including less growth and reproduction and higher susceptibility to disease.
"In general, when stress rises it's not good for the fish," Small said. "They have to be able to handle some level of stress, though, because in aquaculture fish are always being netted, crowded and moved. But we don't want the stress to suppress growth or reproduction, or make it easier for diseases."
Like in the United States, aquaculture is nothing new to Chile. When Americans buy farm-raised salmon at their local grocery store, for example, there's a good chance it came from Chile, Small said.
Different fish species tolerate stress differently; however, researchers knew little about how the San Pedro would handle typical aquaculture stress. But with a strong background in such research, Small was an ideal candidate to help the Chileans with their latest aquaculture project.
Last May, Small welcomed Mariela Puebla, a researcher with CORDUNUP, a biotechnology group leading the San Pedro aquaculture effort in Chile. Puebla, a chemist, spent time at SIUC learning to take blood samples from fish and conduct other fish stress tests. During her month-long stay, she also accompanied Small to a federal research laboratory in Mississippi, where they worked together on some catfish stress experiments.
"We got her involved in the labs and taught her how do work with fish," Small explained. "And her boss liked how it went, so they decided to invite me down there."
In November, CORDUNUP played host to Small at its ocean-side hatchery and research facility in Hauyquique, Chile, inviting him to a week of seminars and workshops on the emerging San Pedro aquaculture effort. During his week-long visit, Small gave presentations each day, worked in the group's laboratories and even appeared on that country's CNN television network.
At the end of the week, Small worked with his hosts to run a series of stress experiments on the San Pedro fish they had in captivity. First, the researchers took blood samples from the fish under non-stress conditions to establish a baseline for stress-related hormones and metabolites such as cortisol, glucose and lactate in their systems. For instance, the baseline level for cortisol, a prime stress-tolerance indicator, appeared to be about 20 nanograms per milliliter of blood.
Next, they put the fish various stressful situations, such as crowding them, lowering the water level of their tank or chasing them with a net. During these efforts, they took blood samples every 10 minutes to measure the stress-related hormone response in the fish. The maximum stress response boosted hormone levels to between 200 and 250 nanograms per milliliter, they found.
By the end of the experiment, not only had Small and his hosts broken new scientific ground on a potential new marine aquaculture species, but also laid a cornerstone for economic and nutritional advancement in South America.
"So this gives us our baseline for future experiments and fish selection," Small said. "It could tell us a lot -- about things like water quality tolerances and handling techniques -- that will tell us how to set up aquaculture systems for this fish so that we get maximum growth and production."
Along with publishing their findings in a scientific journal, Small hopes the research helps the San Pedro aquaculture effort to move forward. He also hopes to return to Chile and continue the research with his colleagues.
The regional market in South America for the San Pedro's white, flaky meat is strong, Small said, making the success of the effort a potential boon for the country and seafood lovers.
"Aquaculture is an important industry for Chile that brings in a lot of money," he said. "In Chile, they're really in to their seafood. There are markets and seafood stands right along the streets near the ocean. It's right there on the water, as fresh as it can be."