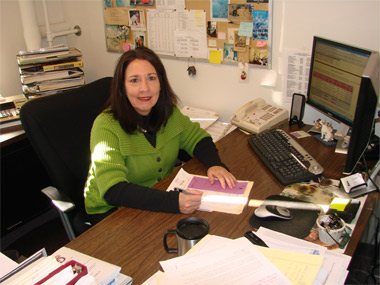 (Photos by Tim Crosby)
January 26, 2011
Ten questions with ... Karen Jennings
Job on campus/department you work in: Graduate School specialist
How long at SIUC: 32 years
Hometown: Marion
When you were a youngster, what did you want to be when you grew up? A professional gymnast
If you could choose another profession, what would it be and why?
If I could do it again from the beginning, I would have taken the path to be a high school business education instructor; being able to mentor young minds and know I had a footprint in their life.
What is something you still want to accomplish in life? To take a paddleboat cruise down the Mississippi River.
What was the first "album" you ever bought, and was it an LP, 8-track or CD? Rolling Stones: Hot Rocks 1964-1971, 8-track.
If you could pick an actor/actress to play you in a movie, who would you pick and why? Goldie Hawn. She is funny, sincere, and down to earth; her acting ability is so diverse that she can even take on a brunette's part.
Cats or dogs? Dogs, they are truly one's best friend. They have no expectations of you. My best friend is Scout, my Jack Russell Terrier.
What is your favorite food and why? Pasta, it can be fixed so many different ways. Sometimes it is so unhealthy, but such a comfort food.
Who has inspired you, and how? My high school assistant principal; he advised me through my junior and senior years, so I could graduate mid-year. Then he strongly encouraged me to start college the next semester. He gave me the nudge I needed to continue my education.
What is your pet peeve? Individuals who do not give credit where the credit is due.
Favorite cartoon character? Bugs Bunny; The hare that is confident, witty and good hearted. Favorite line; What's up, Doc?