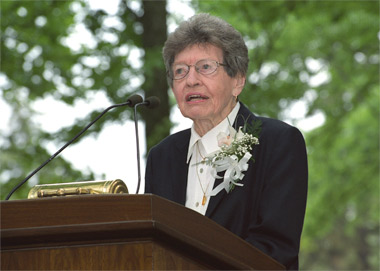 Remembering Mary Curd Simon -- Mary Curd Simon, affectionately known as the "first lady" of the College of Applied Sciences and Arts at Southern Illinois University Carbondale, died Thursday, Jan. 20, at the age of 95. Simon was a Carbondale native whose emphasis was on reading, the college, SIUC and the community. Her husband, Ernest J. Simon, was the first dean in the College of Applied Sciences and Arts, then known as the Vocational Technical Institute. A terrace that honors the couple and the college's 50th anniversary was unveiled in May 2003. An award in the couple's name also honors faculty career achievement in teaching and service to CASA students. In this photo, Mary Simon speaks during the terrace unveiling in 2003. (Photo by Steve Buhman) Download Photo Here
January 24, 2011
Mary Simon, strong supporter of CASA, SIUC dies
CARBONDALE, Ill. -- Friends recall Mary Curd Simon, affectionately known as the "first lady" of the College of Applied Sciences and Arts at Southern Illinois University Carbondale, as an inspiration for her dedication, hard work and commitment to help others.
Simon died Thursday, Jan. 20, at Memorial Hospital of Carbondale. She was 95.
Simon was "an inspiration for everyone," said Terry A. Owens, the college's interim dean.
"Her energy and activity level was always so high and always upbeat," he said. "She always wanted an update on what was going on in the college, what special activities faculty members were involved with, and the recognition that students were receiving."
"She was a very fine lady. She committed her life to this institution and we all owe her a debt of gratitude," Owens said.
A memorial service is set for 2 p.m., Saturday, Jan. 29, at the First Presbyterian Church, 310 S. University Ave., Carbondale. A reception at the church will follow. Burial will be private.
Simon's husband, Ernest J. Simon, was the first dean in the College of Applied Sciences and Arts (CASA); recruited by then-SIU President Delyte W. Morris to lead the college, then known as the Vocational Technical Institute. Ernest Simon served as dean from 1951 until his retirement in 1970. He died in 1989.
A Carbondale native, Mary Simon attended Southern Illinois Normal schools from grade school through high school, and in 1936, received a bachelor's degree in education from Southern Illinois Normal University, what was then a small teacher's college. She taught in the Champaign public school system and in the University of Illinois English department from 1936 to 1950, before moving with her family to Carbondale.
Simon held an endless passion for teaching and supporting both the college and University, said longtime friend Dede Lingle Ittner, who graduated from SIUC in 1961, and is a member of the SIU Alumni Association Executive Committee. In many ways, Simon was a teacher for the entire 95 years of her life, said Ittner, who recorded Simon's oral history five years ago.
Ittner thinks of Simon as an "intergenerational woman."
"She shared her keen awareness of and respect for the people, tradition and events of the past. She spoke of learning from the past often," Ittner said. "She embraced the present each day -- each new concept, challenges and new ideas -- with an amazing passion and tenaciousness."
Ittner said when discussing the future of SIUC and "our role in the lives of students of all ages," Simon "emphatically stated her belief that through education, especially reading, the future of every child and adult could and should be improved and enriched."
Simon taught in SIUC's English department from 1959 until her retirement 1973. But she maintained her tremendous interest in local children and with reading programs in local schools, in addition to her numerous activities both on campus and within the community.
"Community service was a very important part of her life," said Paul D. Sarvela, SIU's vice president for academic affairs and former CASA dean. Simon was always happy when CASA students participated in community service projects, he said.
"She was a wonderful ambassador of the program and always looked out for the best interests of our students and faculty," he said.
In October, Simon was one of four recipients of the 2010 Inspiring Women of Achievement award. Other honors included the SIU Alumni Association Outstanding Alumni Award; being named an Illinois Woman of Achievement by the State of Illinois as well as citizen of the year by the Carbondale Chamber of Commerce in 1997.
Elaine M. Vitello, the dean of CASA from July 1990 until her retirement in September 2002, said Simon was an integral part of the college's fabric. Simon was always present for CASA-related events, and committed to the college's success. Simon was instrumental in discussions about the new Transportation Education Center, which will house the University's automotive and aviation programs at Southern Illinois Airport.
"She understood the college in terms of its purpose and mission," Vitello said. "She believed in the students and the faculty. She was so supportive in many different ways."
Part of the support included establishing the E.J. and Mary C. Simon Distinguished Faculty Award, which acknowledge career achievement of faculty in the area of teaching and service to CASA students. In May 2003, the University unveiled the Ernest J. and Mary C. Simon Terrace, a monument to CASA's 50th anniversary and the couple. The 25-foot diameter terrace is south of the CASA building overlooking Campus Lake.
In addition to her husband, a son, Robert P. Simon, a sister, Dorothy Curd, and her parents preceded Simon in death. A son, James E. Simon of Champaign, three grandchildren, five great-grandchildren, and two great-great-grandchildren survive.
Memorials may be made to the Ernest J. and Mary C. Simon Endowment Fund at the SIU Foundation, 1235 Douglas Drive, Colyer Hall, mail code 6805, Carbondale, IL, 62901, or the First Presbyterian Church of Carbondale.