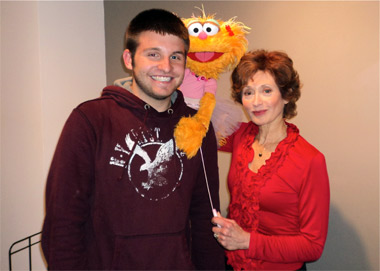 Meeting Zoe -- Southern Illinois University Carbondale student Ryan Dosier is turning a passion into a career path. His Muppets-blog, The Muppet Mindset, has at least 1,000 daily readers, partly because of his celebrity interviews. Here he meets Fran Brill and Sesame Street's Zoe. (Photo provided) Download Photo Here
January 19, 2011
Student's Muppets blog is turning some heads
CARBONDALE, Ill. -- When the senior vice president of special events for the Walt Disney Studios suggests you look her up when next in the Los Angeles area, you buy a plane ticket and get to Los Angeles.
At least, you do if you are Southern Illinois University Carbondale student Ryan Dosier, a Carbondale sophomore majoring in cinema and photography who is following every opportunity he can to turn a lifelong passion into a career path.
Dosier, a Presidential Scholar and a University Honors student, declared himself star-struck when he visited Hollywood and hung out with some of the players behind some of the most famous faces in the world. Besides meeting with Lylle Brier, the aforementioned senior VP and also the head of Muppet Studios, he also toured the new Toy Story Fun Zone (after attending a "friends and family" screening of "Toy Story 3," weeks before the movie was released) with Bill Barretta, also known as Pepe the King Prawn and sometimes Rowlf, Swedish Chef and Dr. Teeth.
This rubbing elbows with the plushed and fleeced started with a blog -- a Muppets blog, for those who don't recognize by name the Muppets Show's irascible crustacean, piano-playing dog, unintelligible gourmand and groovy band frontman.
Dosier is unabashedly a Muppets maniac. He started his blog, The Muppet Mindset (http://themuppetmindset.blogspot.com) in August 2009 on, as he says, "a whim and a prayer." Today, he has 1,000 readers who follow his blog daily, 1,000 who follow him on Twitter and 600 Facebook fans.
"I don't write the whole blog -- I have contributors," he said, suggesting that variety of opinion is part of what makes his blog successful.
Another popular feature of Dosier's blog is his celebrity interviews.
"Muppet people are the nicest you'll ever meet," he said. "In most cases, I've just reached out to them and they've graciously responded."
Among his interviewees are Jerry Nelson (Count von Count, Floyd Pepper, Herry Monster, and more), Bill Barretta, Fran Brill (Zoe on Sesame Street), and several Muppets and Sesame Street writers, storyboard artists, and puppeteers.
Still, for all his success with the blog, Brier's invitation to visit was a surprise, he said. He wasn't aware that such big names among Muppets read his blog.
He hasn't outworn his welcome, either. He has standing invitations, which he plans to accept, to Sesame Street studios in New York City, and to return to Hollywood to visit the set of the upcoming Muppets movie, due mid-November of this year.
As pleasant as it is to visit, Dosier hopes to become a more permanent fixture in the Muppets world. He followed Brier's suggestion that he apply for an internship to the studios. He'll find out in the next month or so if his application is successful.
"My ultimate goal is to work for Muppet Studios or Sesame Street Studios," he said. "I'd like to be a writer, maybe even a puppeteer, but just to be there, I'd even do the laundry, whatever."
In the meantime, Dosier continues building his credibility with his blog. He related a story about attending a special appearance by Muppet Gonzo and puppeteer Dave Goelz in St. Louis.
"I was in line, waiting to get in, and a boy in line did a double-take when he saw me, and he said, 'Hey, you're Ryan Dosier!'" In keeping with Muppet niceness, Dosier agreeably sat with the boy and his mother, but the real highlight of the day, he said, was being able to ask Gonzo a question.
"The Muppets have survived for more than 50 years, they've survived in the Pixar world and the Star Wars world," Dosier said, waxing philosophical. "The message they have is that everyone is special, and that living for your dream is the best thing you can do. No matter what your dream is, it's special because it is yours. But what it really comes down to is this -- they make people happy. It's just happiness."
Dosier is also the WSIU host of Scholastic Hi-Q.