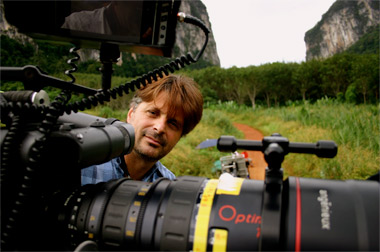 January 13, 2011
Award-winning cinematographer returns to SIUC
CARBONDALE, Ill. -- Award-winning and Emmy-nominated cinematographer and director James Chressanthis says he cannot emphasize enough that whatever career a person chooses, "It better be something you absolutely love."
Chressanthis, who returns to Southern Illinois University Carbondale next week to share his work and creative insights with students, well remembers the moment more than 30 years ago while pursuing his Master of Fine Arts degree from SIUC when that sentiment hit home. Working as a part-time orderly at Memorial Hospital of Carbondale, he was transporting a man dying of cancer to treatments and therapy when the man asked Chressanthis one day what he was studying.
Chressanthis said he was "making sculpture, painting and art," to which the man replied, "I always wanted to do that …"
Chressanthis' own affection is synonymous with success through a variety of mediums in more than two decades in studio motion pictures, television movies, drama series, and documentaries.
---
Media Advisory
Reporters, photographers and camera crews are welcome to attend the lectures, screenings, discussions and the workshop featuring cinematographer James Chressanthis. To arrange for interviews, contact Walter C. Metz, professor and cinema and photography chair, at 618/453-5087 or by email at wmetz@siu.edu.
---
Chressanthis' visit on campus, Wednesday, Jan. 19, through Friday, Jan. 21, will feature screenings and discussions of two of Chressanthis' acclaimed films, "No Subtitles Necessary: Laszlo and Vilmos," and "Four Minutes." There is also a mixed media photography exhibit by Chressanthis and his wife, Robin Becker, and a workshop with students in directing and cinematography courses.
Chressanthis and his wife earned their MFA degrees from the School of Art and Design in 1977. Robin Becker is unable to make this trip as she prepares for their concurrent art exhibition at Midwestern State University in Wichita Falls, Texas, Chressanthis said. The "Beyond the Image" exhibition of the couple's work is available Jan. 18-28, in the Vergette Gallery. Chressanthis will discuss the exhibit from 3 to 5 p.m., Wednesday, Jan. 19.
All of the lectures, screenings and discussions -- with the exception of the student workshop from 1 to 5 p.m. Friday, Jan. 21 -- are open to the public. The events are free, and supported by the University's Student Fine Arts Activity Fee. Links
"We're very pleased to have James Chressanthis returning to campus to share his expertise, his film work, and his photography with our students," said Gary P. Kolb, dean of the College of Mass Communication and Media Arts. "He is a wonderfully talented individual with significant achievements in his career. The Master Class he will teach for our students will be an excellent opportunity for them to learn from a very accomplished professional."
Walter C. Metz, professor and chair of the Department of Cinema and Photography, recalls meeting Chressanthis with Ronald Graves, the college's constituency development officer, in August 2009 on the set of the critically acclaimed television drama, "Ghost Whisperer." Chressanthis was director of photography and also directed some episodes in the series.
Chressanthis was "incredibly nice," talking with Metz and Graves between shots, and gladly agreeing to visit with students, Metz said. Chressanthis' expertise and insight will benefit students, Metz said.
Students will learn "what is going on in the industry right now," and get a glimpse into what it's like to be on sets that can have more than 100 people, he said. Metz also anticipates Chressanthis will discuss with students various lighting setups and directorial moves.
"It's that kind of information that if students can get in the classroom then going and being on a set will not be that intimidating," Metz said.
Chressanthis said he has always been interested in traditional art forms and "the most cutting-edge modern developments." He had varied interests while at SIUC, noting, "The idea of multi-media and interdisciplinary work which we take for granted today was very new then." Chressanthis was primarily doing cast bronze sculptures but also created installations and environments with them, what Chressanthis calls "psychological sets." He was also learning traditional cinematography and editing, while also creating experimental film works and collaborating with dancer-choreographers in performance, he said.
Chressanthis said he had "terrific support" from his sculpture professor Thomas Walsh, and film professors Don Zirpola and Michael Covell. Covell "was really an inspiring filmmaker-teacher pushing us to learn both traditional film craft and test the boundaries of experimental cinema," Chressanthis said. "It was a perfect training ground for a cinematographer, though I did not realize it at the time."
Chressanthis' documentary, "No Subtitles Necessary: Laszlo and Vilmos," which premiered at the 2008 Cannes Film Festival, is the story of cinematographers Laszlo Kovacs and Vilmos Zsigmond, their escape from Hungary in the wake of the Soviet Union invasion, and their success in the United States. Kovacs and Zsigmond were two of Chressanthis' teachers at the American Film Institute and made a deep impression on Chressanthis "both artistically and for their tremendous spirit and love of life," he said.
Lauded in Variety and The New York Times, the documentary includes commentary from a wide range of actors, directors and cinematographers including Sandra Bullock, Peter Bogdanovich, Vittorio Storaro, Peter Fonda, Sharon Stone, and is one of the last film appearances of the late Dennis Hopper, Chressanthis said.
"They came out of revolution, without friend, family or country. They came to America and literally changed world cinema," said Chressanthis, who apprenticed with Vilmos on "The Witches of Eastwick."
"I don't think it's an accident that I have shot on an Oscar-winning picture and had the success I've had in film," he said. "I felt it was my duty to capture and convey their spirit and the stunning achievements of their lives."
The documentary has won awards and been screened as an official selection at more than 30 film festivals worldwide. The television version received an Emmy nomination for Outstanding Cultural Programming. At SIUC, Chressanthis will show his director's cut.
Chressanthis' other work includes the Emmy-nominated mini-series "Life with Judy Garland: Me and My Shadows," "Urban Legend," and television movies "The Reagans," "3: The Dale Earnhardt Story," "The Music Man," "Eloise at the Plaza," and the 2001 "Brian's Song."
Chressanthis said he's currently juggling several potential projects, from a large studio action feature to several new television dramas.
Having Chressanthis and Becker exhibit their work and the interaction with students "represents just one way that our alumni can give back to the institution and reconnect with their alma mater," Kolb said.
"It's always great to have alumni return and share their passion and knowledge with our students and faculty. It reminds us of what we do right, and we are very proud of them," he said.
To learn more about Chressanthis' work, visit http://chressanthis.com/; to learn more about Robin Becker's work, visit http://www.robinbeckerartist.com/.
Chressanthis' public schedule at SIUC:
Wednesday, Jan. 19
3-5 p.m. -- Vergette Gallery Talk, Allyn Building, Room 107. "Beyond the Image," exhibit runs Jan. 18-28.
7-10 p.m. -- Film screening and discussion, "No Subtitles Necessary: Laszlo and Vilmos." (Director's Cut) Morris Library, John C. Guyon Auditorium.
Thursday, Jan. 20
Noon to 1:30 p.m. -- Cinema and Photography Gallery Talk, Department of Cinema and Photography, Communications Building.
7:30-10 p.m. -- Film screening and discussion, "Four Minutes," Soundstage, Communications Building.