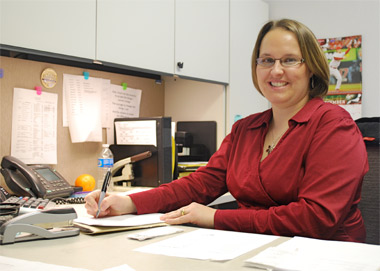 (Photos by Christi Mathis)
January 12, 2011
Ten questions with ... Richel Biby
Job on campus/department you work in: Accountant with University Housing.
How long at SIUC: Three years.
Hometown: Pinckneyville.
People don't know that you: Have had two pacemakers in my short life.
If you could choose another profession, what would it be and why? I have always said that if I went back to school I would go for teaching. Teachers have it made because they get all the days off when it snows, most holidays and three months in the summer.
What is something you still want to accomplish in life? I would like to travel to Hawaii and take an Alaskan cruise.
What was the first "album" you ever bought, and was it an LP, 8-track or CD? I would say probably a New Kids on the Block LP.
Cats or dogs? Dogs.
What is your favorite food and why? My favorite food is meatloaf mainly because it is the one thing my kids will eat well.
Who has inspired you, and how? My mom has inspired me because she is always there for her family and she has worked for everything she has gotten in life.
What is your pet peeve? I would have to say my biggest pet peeve is someone not being organized.
Favorite cartoon character? Why? My favorite cartoon character is Jerry off of Tom and Jerry. I just like how he always outsmarts Tom. This was my favorite cartoon growing up and I am very glad it is still on for my kids to watch.