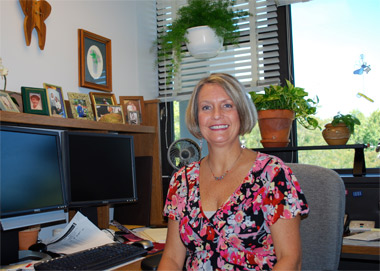 (Photos by Christi Mathis)
January 05, 2011
Ten questions with ... Sherri Lukes
Job on campus/department you work in: Dental Hygiene Program associate professor, School of Allied Health, College of Applied Sciences and Arts.
How long at SIUC: 21 years.
Hometown: Cobden.
When you were a youngster, what did you want to be when you grew up? A doctor.
If you could choose another profession, what would it be and why? Physician assistant -- I love health care and treating patients.
What is something you still want to accomplish in life? To be a wonderful grandparent.
What was the first "album" you ever bought, and was it an LP, 8-track or CD? LP, Three Dog Night.
What is one random fact about you? I love to water ski.
Cats or dogs? Dogs.
What is your favorite food and why? I love all Italian food -- red sauces and garlic!
Who has inspired you, and how? My mother -- she was an amazing Christian woman who had endured so much in her 92 years but was not bitter.
What is your pet peeve? Using the last of something and not refilling.