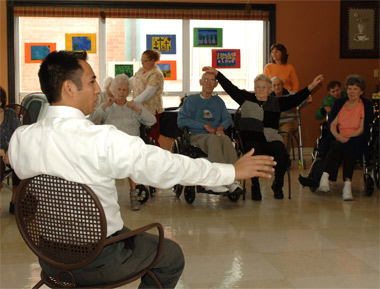 January 18, 2011
Research project brings the arts to seniors
CARBONDALE, Ill. -- Sally Gradle expected to find in her research that engaging senior citizen residents of rehabilitative centers in the arts would benefit them. But how? she wondered, and what can professional artists contribute to this under-served population?
Gradle, assistant professor of art education at Southern Illinois University Carbondale, recently completed a 12-week study in which she introduced two professional artists to communities in two senior citizen rehabilitative centers. Her primary goal, she said, was to understand how professional artists get results with older individuals. She noted that research has shown conclusively that senior citizens benefit from residential art programs. Gradle, though, studied the artists themselves -- what they did to engage their older students, how they modified their instructional strategies and how they challenged the seniors to do more, learn more, and contribute more.
"No one has examined how professional artists might contribute to rehabilitative populations -- and in this case, a population that has limited mobility, sometimes cognitive impairment, and may, for whatever reason, feel powerless to make changes that could improve their self-efficacy," she said.
"I want to understand better how professional artists can contribute to the mobility, cognitive ability and creativity of seniors in nursing homes and rehabilitative centers," she said. "We all know that artists contribute to public schools, but similar programs are not always available in rehabilitative centers for seniors."
Gradle's research communities were residents at the Carbondale Rehab and Care facility in Carbondale, and the Jackson County Rehab and Care Center in Murphysboro. The artists she selected were Stephen Fessler, a painter, and Julio Barrenzuela, a salsa dance instructor. Gradle met both artists at the Illinois Artists Showcase Event hosted by Carbondale Community Arts.
"More than 30 artists participated in that event. I looked for those who would be interested in working with other-than-K-12 populations, had a background of working with special needs students of any age, and had an openness to engaging with under-served populations," she said.
During the 12-week research period, Gradle observed two painting sessions and two salsa dance sessions a week. Though part of her goal was to understand how the artists would adjust to their students, she found her own research methods needed to shift as well.
"One of my adjustments was the fact that the data was not going to yield a stable population to study over a 12-weeks time period," she said. "Rehab residents come and go, and their interests and their health vary over time."
Gradle said she focused on those residents who were present for most of the sessions. She also factored in feedback from the caregivers who helped the residents participate. This feedback, she said, will be essential for artists in such programs to learn how best to approach their elderly students.
And what did she find? First, she said, she found that the artists were impacted by their experience, not just the class participants. She found that not only did the residents gain skills specific to the classes, but also generally that they gained a better awareness of what they could do for themselves to stay active mentally and socially, and to maintain mobility.
Finally, she said, she learned that the residents approached the classes, at least in the beginning, with different expectations that those Gradle held. Namely, she was focused on active learning, and many of the participants began the classes expecting passive entertainment.
"Some residents initially wanted step-by-step instructions and were confused by the professional artists' encouragement of creative adaptations," she said.
Fessler, who moved to Southern Illinois in 2002, specializes in oils and still life for his own art. A Pennsylvania native, he has taught art in Philadelphia, Athens, Ohio, and Sausalito, Calif., and also in Thailand. His love of traveling to foreign countries began in high school, and he has visited South America and Asia.
He explained that working with seniors was a new experience for him, and he took evident pride in the progress of his regular students. He noted how one student went from painting the same subjects as her neighbors did to creating her own scenes, and how another elderly artist stylized her artwork to give it symbolic meaning.
"What I really found was a willingness to learn and also to take direction," he said. "Some of my students revisited their memories through painting, finding a new way to bring to us their own stories."
Fessler said some of his students were initially overwhelmed at the idea of creating a painting from nothing. Others automatically began painting a still life -- one of them using his art bag as her subject -- and others quickly improved, benefitting from what he called "artists' tricks" he shared with them.
Barrenzuela, an SIUC alum and a "salsa fixture" in Springfield, is passionate about using salsa dance as a cultural tool. Like Fessler, he approached his students at an individual level, not expecting an entire roomful of seniors to have the same mobility.
"My first job was to test the waters," he said. "I wanted to find the seniors who would move, the ones who wanted to move, and the ones who wanted to hold back."
Persistence, patience and kindness benefitted Barrenzuela in his mission to get seniors moving. While the dances were done in a seated position, he urged all of them to move whatever they could move -- to clap, or wiggle their shoulders, raise their arms or tap their feet.
Barrenzuela said he was also promoting Latin culture to a population that might not have had much prior exposure to it.
"We started up with a moving exercise, and we ended up building a community," he said.
Gradle said she hopes to use her initial research to help design future programs to expand further research studies. This initial foray into senior rehabilitative art programming, she said, was the result of a SIUC Office of Research and Development Seed Grant. Seed Grants go to junior faculty who have an idea for future research, but need funding to get started on an initial project.
"These Seed Grants are important because without a preliminary funding source from research universities such as ours, larger grants are often unattainable," she said.
"I anticipate future funding sources that would enable me to pose different questions relating to wellness care for seniors. How can professionals in the arts generate the kind of engagement -- socially, mentally, and physically -- that enables lifelong learning? Underlying all this is the much broader implication that the arts have a purpose that extends beyond schooling as we know it."
Gradle said she hopes her research will contribute to partnerships between professionals in the arts and health care.