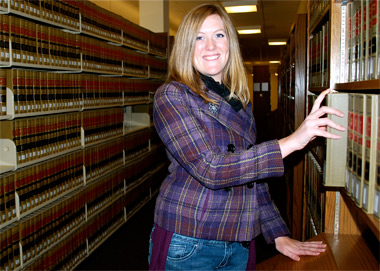 December 17, 2010
Graduating senior finds niche in paralegal studies
CARBONDALE, Ill. -- If not for squeamishness about chemistry, Jessica Henson's future plans might look very different indeed.
Henson, a Peoria native, will graduate from Southern Illinois University Carbondale's paralegal studies program on Saturday, Dec. 18. Next fall, she expects to enroll in the SIU School of Law. Until then, she'll work as a paralegal for a local bankruptcy attorney.
"It took me a little while to figure out what I wanted to do," she said. "At first I was trying to make other people happy, but then I decided I needed a career to make me happy."
She had begun college in a civil engineering program. As much as she enjoyed it, she felt her heart pulling her to a pre-veterinary program. There were two problems: one, family obligations required frequent moves, which made starting a college career difficult, and two, chemistry is a requirement for those wishing to pursue veterinary medicine.
"I found that I don't really like chemistry," she said, "but I had taken a course in property law while I was studying civil engineering and I really liked that."
Henson enrolled in an associate degree paralegal program in Colorado. The program director, an SIUC alum, noted Henson's Illinois roots and suggested a look at SIUC, should Henson's travels ever bring her to Southern Illinois.
And sure enough, Henson found herself in Carbondale. Though she had worked in law offices for several years already, her experience had shown her that the paralegal field can be quite competitive. She wanted an edge, and SIUC was the whetstone.
"There are not as many paralegal positions as there are legal secretary positions, it seems," she said. "Paralegal jobs pay better, and I enjoy that work more because it involves research and problem-solving. So I wanted a program such as SIUC offers, a baccalaureate paralegal studies degree."
SIUC offers the only American Bar Association-approved bachelor's degree in paralegal studies in Illinois. The program, Henson said, is challenging. She noted in particular a research course that often stymies students unprepared for the workload.
But workload is no deterrent for Henson.
"I wasn't really in a hurry, but I did want to finish the program and move into law school," she said, explaining why she took 18 credit hours in her fall and spring semesters, and 11 credit hours during the summer. And she was working her way through college, relying on two part-time jobs, one at a restaurant and one in a retail shop -- together approximately 38 hours a week -- to pay her way.
Even with such a full schedule, Henson served as president of the Organization of Paralegal Students at SIUC, and took an internship job at the SIU Law Library -- a job that cemented her desire to attend law school.
"People come into the law library off the street with legal problems and they are looking for answers," she said. "There is always something to research, and it is always something different. That is one of the things I love the most about it. The law isn't always easy to understand, and I love the challenge."
She said she is prepared to follow whatever niche in the law best suits her, after which she may earn a master's degree in library science and bury herself quite happily in research as a career.
As long as it doesn't involve chemistry.