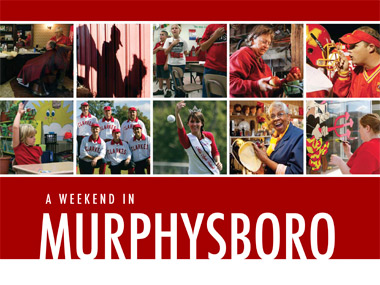 December 15, 2010
Book displays students' talents, region's richness
CARBONDALE, Ill. -- Southern Illinois University Carbondale students Mallory Henkelman, Evan Davis and their classmates couldn't help but smile.
They were getting the first glimpse of a book that offers readers a taste and sense of living in Murphysboro. The 80-page, all-color, 12-by-9 soft-cover landscape book "Weekend in Murphysboro," is the final component of a project documenting the people and events in Murphysboro over more than 48 hours, Oct. 2-4, 2009.
"I think it looks fantastic," said Henkelman, a senior from Danville majoring in journalism with a specialization in advertising.
Davis, who is from Chicago, will graduate Saturday, Dec. 18, with a bachelor's degree in journalism with a specialization in photojournalism.
"It looks awesome. I'm glad it really turned out the way it did," he said.
Henkelman and Davis, along with students Al Anderson, Kraig A Koch, Jacob R. Mayer and Justin Peterman were involved in book layout and design as part of Assistant Professor Aaron S. Veenstra's advanced graphic communication class this fall.
"We put in a lot of hours, a lot of time and energy into this and it's nice to see it look as good as it does," said Koch, a graduate student from Mount Vernon who is working on a degree in professional media and media management studies.
Mark J. Dolan, an assistant professor who was photo editor and project director, received 1,500 copies of the book this week.
The book will cost $20 and the School of Journalism will only sell enough to cover the cost of printing, with the remaining copies being distributed between the town and the school. The book will be available at the SIU School of Journalism at 618/536-3361, and the City of Murphysboro Administration office, 1101 Walnut St. Proceeds from books sold in Murphysboro will go to the University to help defray printing costs, Murphysboro Mayor Ron Williams said.
After seeing the book for the first time, Williams praised the efforts of the students involved throughout the entire project. The book "is absolutely beautiful. It is a professional publication that a small city our size could never hope to attain."
The book "not only highlights the talents of our students, but also the richness of our region," said Gary P. Kolb, dean of the College of Mass Communication and Media Arts.
"This book forms a valuable record of one community that will endure," he said. "Imagine someone picking it up off a shelf in their grandmother's home in 2075 and looking through these pages at the history of their town."
Kolb said it is great to finally see the book come to fruition.
"We thought about a book from the very beginning of the project but did not know if it would be financially feasible. Thanks to the chancellor and the people of Murphysboro, we were able to pull it off. This is a terrific example of what the University and the community can do together. I'm very proud of all of our students who participated and of Mark Dolan for all he did to make this project a reality."
The project was a learning experience for everyone, said Veenstra, the design manager. That included sorting through numerous images to determine those that fit with specific themes and focus.
""That was a real challenge for this project in dealing with winnowing down the existing starting set of images into something we could fit into an 80-page book," he said. "But it was something that I think really refined the quality quite a bit. We wound up getting a lot of really good material … where we were thinking about how to put pages together in a way that wasn't just a random collection of images."
There are approximately 200 images in the book showcasing a variety of activities. The photographs and stories range from an early morning pledge of allegiance at St. Andrew's Catholic School and morning assembly at Murphysboro Middle School, to the work of elementary art teacher Beth Smout. Among the other features are the Murphysboro High School Crimson Express Marching Band, a Red Devil football game, activities at the Murphysboro Senior Citizen Center, old-time baseball with the Murphysboro Clarkes, and a wedding at Lake Murphysboro.
The book credits 34 photographers, including Davis and Anderson. Anderson, who is from Columbia, S.C., is a graduate student working on a degree in professional media and media management studies.
Mayer, who is from Sparta, is a senior majoring in journalism. Peterman, a senior from Carbondale, will graduate on Saturday with a degree in information systems technology and a minor in journalism.
Dolan said the multi-media work of students in the College of Mass Communication and Media Arts shows the lives of Murphysboro residents at that particular point in time. In addition to the digital still photography, sound and video, students also designed a website --http://southof64.com/ -- to chronicle facets of daily life and events in the community.
Williams said he sees the book and earlier website as a regional development tool for Murphysboro, in addition to the great educational experience for students.
"This fulfills the mission of the University in terms of providing service to the region," he said. "It is astounding what they have been able to accomplish."
"It's great for the community and it's great for our students to have something like this; it's a little more real," Dolan said of the book. "The website is great … but there is something special about having a book to hold in your hand. It looks good."
Dolan emphasized the collaborative effort involved in the project, noting that different groups of students contributed.
"Whomever the best designer is amongst us wouldn't have gotten this with just one person designing it," Dolan said. "There was a lot of creativity involved that these students were able to bring to the table."
Students this spring will work on a book project that features the villages of Cobden and Alto Pass, Veenstra said. Much like with the Murphysboro project, students used digital still photography, sound and video for a multi-media workshop focusing on Cobden and Alto Pass in early October.
For more information on the project contact Dolan by email at mjdolan@mac.com.