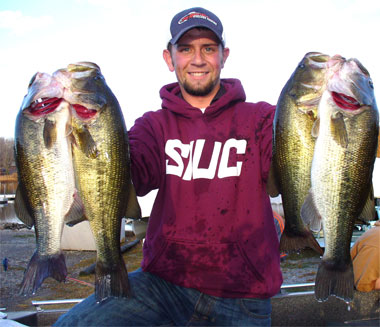 December 09, 2010
Win puts Saluki Bassers member into tournament
CARBONDALE, Ill. -- A student at Southern Illinois University Carbondale is casting his bass fishing proficiency into a major tourney that could qualify him for the national competition next year.
Bryan Partak, a senior in special education from Marseilles, took first place among Saluki Bassers team members during a recent tournament at Lake of Egypt. The win, which saw Partak haul in 27 lbs., 7 oz. of bass, will propel the angler into a regional tournament sponsored by ESPN. A good showing there could earn him a spot in the College National Championship and a possible shot at a berth in the upcoming Basmaster Classic, the top bass-fishing tournament in the country.
"Sometimes they refer to it as 'the Super Bowl of Fishing,'" said Edward J. Heist, associate professor at the Fisheries & Illinois Aquaculture Center at SIUC, and the adviser for Saluki Bassers registered student organization. "Competitive bass fishing is growing in popularity across the country and several organizations now hold separate tournaments for college students."
The Saluki Bassers, which has about 30 members, last competed against other colleges and universities in April when two members fished in the Forest L. Wood National Championship. SIUC anglers Richard Dunham, of Waukegan, and Travis Gould, of Vandalia, finished 14th overall. Their win in one of the series' tournaments earned $2,500 for the club and $2,500 for the University, as well.
Heist and others see the club as a potential student recruiting tool, given the growing popularity of the sport overall, as well as its growth as a recognized high school sport in Illinois and surrounding states. More than 225 Illinois high schools now have bass-fishing clubs and the Illinois High School Sports Association supports the competitions.
With SIUC ideally situated in prime bass-fishing territory, Heist sees great potential.
"The success that the club has had competing at the national level coupled with the easy access to great fishing waters make SIUC the ideal location for students interested in bass fishing," Heist said. "SIUC is rich in bass fishing resources with several excellent lakes in the region and even a lake on campus that has produced numerous bass over 5 pounds. There aren't many universities where you can experience great bass fishing only a short walk from your dorm or classroom."
Partak had a tremendous outing at the Lake of Egypt tourney, Heist said, breaking the team's individual total weight and big bass records for that water body.
The lake has a daily limit of four fish longer than 16 inches and one fish shorter than 14 inches. Partak twice hit that limit, bringing in 12 lbs., 9 oz. on the first day and 14 lbs., 14 oz. the second day. His largest bass, the team record-setter, was 5 lbs., 4 oz.
"I fished extremely hard and all the hard work paid off," Partak said.
Founded in 2004, the Saluki Bassers fishes local tournaments as well as five national tournaments each year. The club provides students with an opportunity for leisure and competition while exploring Southern Illinois angling and striving to promote bass habitat and educate the public.