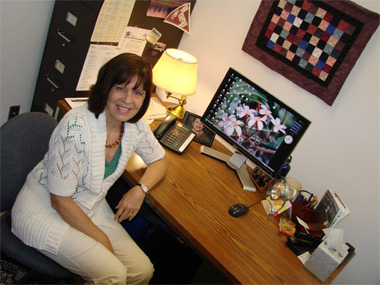 December 09, 2010
Ten questions with ... Gail Robinson
Job on campus/department you work in: College of Science Advisement/Health Professions Advisor
How long at SIUC: 13 years
Hometown: Wheaton, Ill.
When you were a youngster, what did you want to be when you grew up? A fashion merchandiser…I made most of my clothes in high school.
People don't know: That our house was once a loft barn many years ago. It was a huge recycling project (!) but it became a comfortable home.
If you could choose another profession, what would it be and why? Physician assistant, which I considered before advising for the health professions. It's a role in which you're able to spend more time with patients (than a physician), and also have a life of your own.
What is something you still want to accomplish in life? Traveling more, especially to southern France and Italy.
What was the first "album" you ever bought, and was it an LP, 8-track or CD? The Beatles first album (LP), "Please Please Me."
If you could pick an actor/actress to play you in a movie, who would you pick and why? Meryl Streep…she is such a good actress, she could probably play anyone!
What is one random fact about you? I have been practicing yoga for more than 30 years. I feel fortunate to have it as a life "habit."
Cats or dogs? Dogs, definitely. I'm pretty loyal. I have a Golden Retriever (my second one!)
What is your favorite food and why? My mother's French Pastry Cake, because it is chocolate, and for sentimental reasons.
Who has inspired you, and how? My students often inspire me -- who are pre-med, pre-dental, etc. They are so motivated, industrious, and driven, but also fun to hang out with.