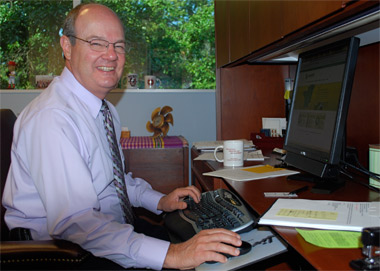 December 01, 2010
Ten questions with ... Rex Duncan
Job on campus/department you work in: Director of community development and outreach, Office of Economic and Regional Development.
How long at SIUC: Seven years.
Hometown: Du Quoin.
When you were a youngster, what did you want to be when you grew up? A train engineer. Always wanted to drive one of those big, loud locomotives!
People don't know that you … I am the water and sewer commissioner for the city of Du Quoin. I can tell you more about raw sewage than you'll EVER want to know!
What was the first "album" you ever bought, and was it an LP, 8-track or CD? My first album would have been a 33 1/3 rpm LP. Early Credence Clearwater Revival or Santana.
If you could pick an actor/actress to play you in a movie, who would you pick and why? John Cusack -- flaky funny, but still serious.
What is one random fact about you? I used to be a drummer. Still love listening to the Marching Salukis' drum cadence.
Cats or dogs? Big dogs, especially golden retrievers.
Who has inspired you, and how? My parents taught me so much about hard work, commitment to family and community, getting up and going on when things don't work out, and all of the other important life lessons. I owe them more than I could repay in six lifetimes.
What is your pet peeve? Pessimists.
What would you like your gravestone to say about you? What a Great Guy!