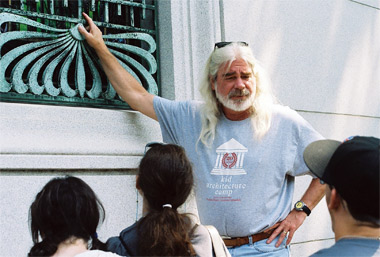 Davey architecture camp award -- Jon Davey, architecture professor, distinguished faculty member and director of the Kid Architecture camps, talks to previous summer camp participants as they study architecture at the historic Bellefontaine Cemetery in St. Louis. (Photo provided) Download Photo Here
November 19, 2010
Davey wins award for work with young people
CARBONDALE, Ill. -- Jon D. Davey, architecture professor and distinguished faculty member at Southern Illinois University Carbondale, is passionate about architecture and helping young people understand and appreciate the built world around them. A statewide award this month recognized him for the summer architectural workshops he created to meld those passions.
Davey is the recipient of the 2010 R. Buckminster Fuller Award from the Illinois branch of the American Institute of Architects. The AIA presents the annual award to recognize "the exemplary dedication of an AIA member to humanitarian concerns, social impact or community endeavors" and Davey earned the accolade for more than two decades of working with young people in summer architecture workshops and camps.
The award is meaningful to Davey for several reasons, he said. It recognizes his love of educating young people and since it signifies recognition from other architects and professors, "That's really an honor," Davey said.
But what makes Davey particularly proud is that he is the winner of an award named for a Fuller, a man with a significant connection to SIUC, a man so highly esteemed in the world of architecture and beyond.
"Buckminster Fuller taught here at SIUC and the University awarded him an honorary doctorate. He is associated with SIUC nationally and internationally. This is the house where he taught for most of his career. This award means a lot to me," Davey said.
Davey is quick to point out Fuller's numerous accomplishments. Fuller authored more than 25 books, was an inventor, an architect, a philosopher, a designer, a teacher, an architect and much more. He drew worldwide attention with his groundbreaking, multifunctional geodesic dome home design, patented in 1954. A Navy veteran, Fuller invented the 1927 Dymaxion House, 1933 Dymaxion Car and even the Dymaxion Deployment Unit, used as emergency troop quarters during World War II. A Nobel Peace Price nominee in 1969, Fuller came to SIUC in the late 1950s as an assistant professor, later becoming a full professor and department chair. There is even a carbon molecule, discovered after his 1983 death and resembling a geodesic dome, named "fullerene" and nicknamed the "bucky-ball," both in his honor.
"This award is significant to me in itself and because it bears his name," Davey said.
The AIA presented the award during its annual conference Nov. 4-6 in Champaign/Urbana. The award design theme this year was "A Celebration of Better Illinois Communities by Design." The Southern Illinois chapter of the organization also recognized Davey during its meeting Nov. 17.
Davey created the Kid Architecture program in 1988 for students in grades four through six and about three years later added components for junior high and high school students. He said he was seeing youngsters grow up without really understanding the manmade world around them and that led to his decision to give them experiences that would open their eyes to that world.
"We have all kinds of definitions of what intelligence and education are. The truth is that even the most intelligent people, even the highly educated ones, are often visually illiterate. We need to expose young people to the world they live in and an understanding of it. Almost all of our lives are spent in spaces someone else designs. We can pick our clothes but not necessarily where we learn, eat, shop, live and spend a lot of our time," Davey said.
Through a series of hands-on activities, Davey and his camps help young people learn about design elements and other aspects of the created world around them. They do spatial, structural and small-scale construction projects, work with computer graphics and computer-aided drafting, make personalized mosaics, take field trips to study the architecture up close and personal and much more.
More than 2,000 youths have participated in the unique architecture camps on the SIUC campus. They come from all over the world to attend the workshops. Davey has also taken Kid Architecture on the road, bringing to about 5,000 in all the number of young people completing the program. He has taken the program to the Illinois State Fair on behalf of the Capital Development Board, to the National Building Museum in Washington, D.C., twice to the Smithsonian Institute, to the Springfield Art Museum, the Mitchell Museum in Mt. Vernon on several occasions, to the Martin Luther King Pavilion in St. Louis and to the University of New Mexico at Albuquerque.
While the AIA is honoring Davey for his 23 years of work with young people through Kid Architecture, this is far from the first award for Davey and his program. It is a two-time national merit award winner from the American Architecture Foundation and earned a national certificate of distinction from the Urban Network in the School of Architecture at the University of Michigan. It is also the recipient of a citation of honor from the Illinois Council, the Presidential Award from the American Institute of Architects, a chapter education award from the St. Louis Chapter of the Construction Specification Institute, a regional educational award from the Construction Specification Institute, and an Illinois connections and award of distinction from the Illinois State Board of Education.
Davey is working on his doctorate in education and earned his master of science in education in 1987, his master's in environmental design in 1986 and his bachelor's in architectural studies in 1979, all at SIUC. He has also studied in Cuba, Paris, and studied and taught at the University of Wisconsin-Milwaukee. A U.S. Army veteran, Davey has been a member of the SIUC faculty since 1993 and has led popular study-abroad programs to Europe, Greece, Turkey, Egypt, India and Cuba. He has amassed numerous teaching awards, too.
For more information about the architecture camps, look online at https://www.dce.siu.edu/index.php/Academic-Camps/ or http://mypage.siu.edu/ashfaq/KidArch/.