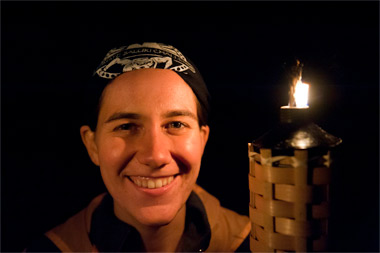 Ultimate Saluki -- Brynn Freed of Danville is the winner of the 2010 Ultimate Saluki Challenge at Southern Illinois University Carbondale. (Photo provided) Download Photo Here
November 17, 2010
Brynn Freed earns 'Ultimate Saluki' honors
CARBONDALE, Ill. -- The challenging three-day battle was over and as the 16 Southern Illinois University Carbondale students cast their ballots it soon became apparent -- Brynn Freed of Danville is THE 2010 Ultimate Saluki.
"I was so excited, especially to get so many of the votes," Freed said after winning the Halloween weekend competition that's similar to the CBS reality show "Survivor." She claimed an Apple iPad for the achievement but said the experience itself was very rewarding.
"I took away from this weekend a lot of friends and a real feeling of accomplishment. This was something I could do very well at. I've played sports and competed before but this reward wasn't just about being the most athletic. I held my own athletically but it helped that I was small because that helped our team with some of the challenges. I take pride in the fact that my size, my athletics, my mental skills and the relationships I made all came together. This was a great experience. It was totally worth it. And, I won an iPad!" said Freed, who is pursuing her master's degree in reading/language studies.
Anthony Grzyb, a senior aviation flight major from Oswego, took second place. He won a Missouri Valley Conference basketball tournament package including tickets and lodging for two for the MVC tournament in March. Missy Gurga, a junior from Schaumberg majoring in speech communication, finished in third place claiming a $500 book scholarship.
During the fifth annual Ultimate Saluki Challenge, 16 students were "stranded" at the Touch of Nature Environmental Center, battling the elements and one another during a series of intense challenges. Each contest gave them the opportunity to win immunity and a reward and each was indeed quite "challenging," said Lynne Thompson-Cundiff, assistant director of fitness for Recreational Sports and Services at SIUC.
The events tested mental and/or physical prowess. Teamwork was essential. The competition involved a number of different elements. Contestants demonstrated their orienteering skills, paddled canoes, solved puzzles and built fires with flint. One challenge required teams to move large wooden two by four skis with ropes and their feet and one team quickly developed a coordinated system that worked well.
Just as on the television show, forming alliances was very important. Freed said she knew allegiances would be crucial and she quickly saw Anthony as a "quiet leader" with whom she wanted to be aligned. He had already teamed with Missy, who approached Brynn asking that she join them. Initially all were members of the Sphinx tribe where they were quite successful and that continued as they worked together to eliminate competitors in the merged unit until they remained as the final three contestants.
The Ultimate Saluki Challenge is a collaborative event from Recreational Sports and Services, University Housing, the Student Programming Council and Touch of Nature Environmental Center. During a chilly weekend, participants competed not just to stay in the contest and win prizes but also for such "luxuries" as blankets, food and other sustenance items.
"It was really cold at times and I have never gone that long without food before," said Freed, the daughter of Kelly and Luanne Freed. She said if not for some previous camping experience she would have found the elements even tougher to deal with. Cuddling together with the rest of the ultimate Saluki challengers was essential for warmth and was a good bonding experience, she said.
"We got to be really tight friends. This experience brought us together. You knew you needed each other for warmth and for the challenges. I actually preferred the team challenges to the individual challenges. It forced you to talk to each other too. It's not like you could just go off and watch TV or something. We were in it together and we really got to know each other," Freed said.
Thompson-Cundiff said the camaraderie not only enabled Brynn, Anthony and Missy to take the top three spots but actually led to a most unexpected scene during the final challenge. Brynn helped Missy build a fire stack, but then Brynn had trouble using the flint and steel to create the spark to get the blaze going although Missy had done so. But Missy shared the flames with her friends. Freed and Thompson-Cundiff said it's just an indication of the strong bonds formed during the weekend.
The other contestants agreed. In an e-mail to contest organizers a few days afterward, contestant Emilio Velez of Oak Park said he was already starting to miss his tribe.
"I feel really close to the people who I only spent one night with. But, when you're solely relying on four shared sleeping bags and body heat for comfort at night, it can bring a group together very easily," Velez wrote, adding that he would love to participate again in a future Ultimate Saluki Challenge.
Mike Skupin, star of "Survivor: Australia" was the guest host for the Ultimate Saluki Challenge and presided over the final council.
The 2010 Ultimate Saluki contestants, listed by hometown with their major and year, are:
Illinois
Alhambra
• Ryan Stroup, junior, accounting.
Carbondale
• Yikai Zhao, junior, marketing.
Cuba
• Caleb Shaw, sophomore, sports administration.
Danville
• Brynn Freed, graduate master's, curriculum and instruction.
Eldorado
• Kyler Cook, junior, English.
Lake Zurich
• Devon Fortelka, junior, athletic training.
Oak Park
• Emilio Velez, freshman, radio-television.
Orland Park
• Ryan Siriann, junior, management.
Oswego
• Anthony Grzyb, senior, aviation flight.
Palatine
• Emily Joswiak, freshman, animal science.
Rockford
• Kashayla Stanford, senior, mortuary science.
• Sean O'Connor, graduate master's, professional media and media management.
Schaumberg
• Missy Gurga, junior, speech communication.
Springfield
• Cade Moody, senior, physiology.
Alabama
Mobile
• Quinton Hooks, graduate master's, therapeutic recreation.
Indiana
Indianapolis
• Daniel "Ike" Egharevba, graduate master's, electrical and computer engineering.