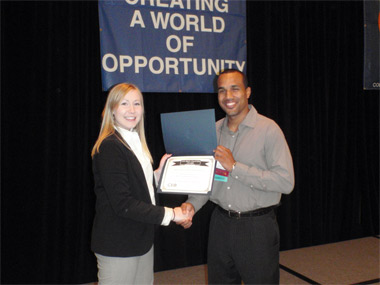 Award-winner – Renee Favreau, left, accepts the award for Best Student Leader from Arel Moodie of Extreme Entrepreneurship at the National CEO Conference earlier this month. (Photo provided) Download Photo Here
November 15, 2010
Business students fare well at national conference
CARBONDALE, Ill. -- Southern Illinois University Carbondale students once again demonstrated their talents during the recent 2010 National Collegiate Entrepreneurs' Organization (CEO) Annual Conference.
Renee Favreau of Carbondale won the award for Best Student Leader at the conference. The award, given on the basis of faculty advisory nomination citing outstanding characteristics and work done for the chapter, goes to a student who goes above and beyond the call of duty as a student leader. With more than 180 student CEO chapters represented at the conference, this was a significant accomplishment and honor for Renee and for the College of Business, leaders said.
In addition, both Favreau and Tom Dupuis of Lake Bluff advanced to the quarterfinal round in the conference's Elevator Pitch Competition. The elevator pitch competition essentially asks contestants to create a short sales pitch, one they could, for instance, deliver on an average elevator ride of 90 seconds, convincing someone to invest in their business concept or product. "Greeting Box: Solutions to the Greeting Card Industry" was the pitch Dupuis presented while Favreau was touting "Nano Nose."
"The competition for the awards at the National CEO Conference is very intense. Students from across the U.S. and neighboring countries spend all year preparing their elevator pitches as well as planning and executing group projects. Many CEO organizations are much larger and have much greater funding than ours. I am so proud of Renee and Tom for their accomplishments, and applaud the entire Saluki CEO Corps for its hard work," said Maryon King, associate professor of marketing and director of the SIUC College of Business Center for Innovation.
More than 1,600 students representing more than 180 institutions of higher learning across North America participated in the conference. More than 120 applied for entry in the elevator pitch competition, with 30 chosen to compete against those who earned entry by winning competitions hosted by individual campuses.
Dupuis, son of Brian and Carol Dupuis, is a senior marketing major, while Favreau, daughter of Carl and Connie Favreau, is a graduating MBA student. Favreau placed 10th in the 2009 national elevator pitch competition.
King along with Jenni Janssen, assistant director of the Center for Innovation, led the SIUC contingent at the conference in Chicago earlier this month. Also attending were Saluki CEO Corps members Ariana Suarez, a senior business administration major; Robyn Worley, a master of accountancy student; Hannah Rummel, a junior marketing major; and Jason Baudendistel, a sophomore economic major.
Presenters at the conference included Jimmy John Liataud, from the restaurant franchise bearing his name, as well as Michael DeLazzer, an original founding member of Redbox, and Jeff Hoffman, founder and CEO of Priceline. Janssen said students learned much about business entrepreneurship during the conference.
Upcoming events for the Saluki CEO Corps, a registered student organization, include a meeting with regional entrepreneur Mike Kelly and a semester awards presentation and holiday dinner. For more information about Saluki CEO Corps, look online at www.salukiceo.rso.siuc.edu, call 618/453-7788, email salukiceo@cba.siu.edu or visit the group's Facebook page.