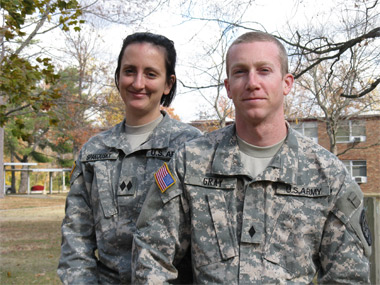 Top ROTC cadets -- Christina M. Spakousky, left, and Daniel W. Gray, both cadets in Southern Illinois University Carbondale's U.S. Army Reserve Officer Training Corps, rank in the top 10 of more than 5,000 senior cadets nationwide on the ROTC's national Order of Merit List. (Photo by Pete Rosenbery) Download Photo Here
November 05, 2010
Gray, Spakousky among nation's top ROTC cadets
CARBONDALE, Ill. -- Two senior cadets from Southern Illinois University Carbondale's U.S. Army Reserve Officer Training Corps are among the nation's finest this year.
Cadets Daniel W. Gray and Christina M. Spakousky ranked in the top 10 of more than 5,000 senior cadets on the national Order of Merit List. Gray and Spakousky, who married soon after returning from training sessions this summer, rank fifth and eighth overall, respectively.
SIUC was the only school to have two of its ROTC cadets place in the top 10 overall.
The Order of Merit List ranks all Army ROTC seniors across the nation, with the top 20 percent earning the designation of Distinguished Military Graduate, according to a release by the U.S. Army Cadet Command. There are 1,068 Distinguished Military Graduates this year.
"This just goes to show that hard work and dedication will allow students to go far," said Illinois National Guard Capt. Jonathan A. Cape, enrollment officer for SIUC Army ROTC. There are 114 cadets in the battalion this semester.
"Cadets Gray and Spakousky have been strong leaders in the Army ROTC program at SIUC. It is an honor for our program to have two cadets in the top 10 in the nation. It shows the quality learning environment that is available at Southern Illinois University Carbondale."
The two cadets attended the Leadership Development and Assessment Course at Fort Lewis, Wash., over the summer and were evaluated on their leadership potential, Cape said. All Army ROTC cadets in the nation attend the course between their junior and senior years. Gray and Spakousky were among 5,340 cadets on the national Order of Merit List, Cape said.
Spakousky is a senior majoring in journalism with a focus on news/editorial, with minors in Chinese and army military science. Spakousky, who will graduate in August, also is city editor of the Daily Egyptian, the student newspaper at SIUC.
A transfer from Monterey Peninsula College in Monterey, Calif., Spakousky is in her third semester with ROTC at SIUC, and said she knew this was something she always wanted to be involved with. After coming to the ROTC headquarters in Kesnar Hall on her the first day of classes, Spakousky opted to try it out with one credit hour her first semester "to see what it was all about."
She later attended the Leadership Training Course at Fort Knox, Ky., where she received her biggest overview of what ROTC is about, she said.
Gray arrived at SIUC in fall 2009, previously attending Florida Community College in Jacksonville, Fla. He said he chose the University for its ROTC and aviation technologies program. He will graduate in May with a bachelor's degree in aviation technologies with a specialization in aircraft maintenance.
Gray and Spakousky will each commission as second lieutenants into the U.S. Army upon graduation.
Their positions on the Order of Merit List determine priority for a limited number of active duty positions, and increases their chance at getting the branch of occupational specialty of choice, according to the release.
Spakousky will go into military intelligence, possibly in foreign area relations and maybe public affairs, she said. Gray will be an aviation officer where there are then multiple paths he can take after qualifying to be a pilot, he said.
Spakousky is the daughter of Jane M. Edgar and Eugene P. Longo of Belleville. Combining academic and ROTC commitments can be difficult, she said.
"It depends on how committed you are to being both of those things," she said. "If you are committed to being a good student and committed to also being a good cadet, the program is difficult."
But he program "is tiered to motivate people to do that," said Gray, the son of Todd and Terry Gray of Elgin.
"In order to get the top of the list like we were, the big determining factor is your grade point average. If you want to do really well, you just can't do well here; you have to do well in school. At the end of your junior year you are set up for success," he said.
The news release from the cadet command states that Order of Merit rankings are based on cadets' superior grade point averages, strong athletic performance in the Army physical fitness test and college athletic participation, proving their worth as exceptional leaders in their college ROTC training, and performance at the Leader Development and Assessment Course at Joint Base Lewis-McChord.
Gray and Spakousky credit their instructors in SIUC's ROTC program. If they see that you are motivated, and willing to learn and work, they will give you more, Spakousky said.
"We are two cadets. But if you look at the people we sent to the sessions camp this summer we all did really well. Everyone did a stellar job. You can tell when we all did so well we had something in common and what that is, is our cadre," Gray said, referring to the instructors on campus.
"The cadre is what makes us," he said. "Our last semester last year we had a strong cadre and they effectively trained us. We had the personal drive to do well ourselves, but we wouldn't have been prepared and done as well as we did without them."