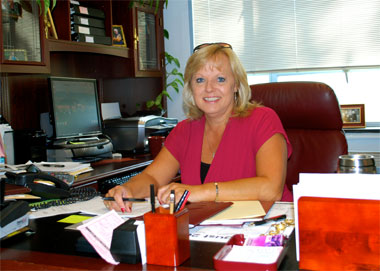 November 03, 2010
Ten questions with ... Rita VanPelt
Job on campus/department you work in: Assistant Director, Disability Support Services
How long at SIUC: 23 1/2 years
Hometown: Jacob, Ill.
When you were a youngster, what did you want to be when you grew up? A teacher
If you could choose another profession, what would it be and why? If I could do it over again, I would have been a stay-at-home mom. I love being a mom, and now that my kids are older, I wish I would have had more time to spend with them.
What is something you still want to accomplish in life? Vacation/visit all of the states in the United States. I still have 25 to go.
What was the first "album" you ever bought, and was it an LP, 8-track or CD? Shaun Cassidy's "Da Doo Ron Ron" was my first 45. I drove my mom crazy with that one. And my first album was the Saturday Night Fever soundtrack.
If you could pick an actor/actress to play you in a movie, who would you pick and why? Reese Witherspoon, because she's funny and she's pretty.
Cats or dogs? Well… if I had to pick, I would say dogs. My family loves them and has surrounded me with them and they are slowly growing on me.
What is your favorite food and why? Pasta… probably because it's fattening and I shouldn't eat it.
What is your pet peeve? Rude/mean people. If I could name a second pet peeve, it would be people who talk loudly on their cell phones in public, but I guess that also falls under "rude."
What would you like your gravestone to say about you? She lived life to the fullest.
Favorite cartoon character? Why? Homer Simpson. I can't help it, he's so stupid he makes me laugh!