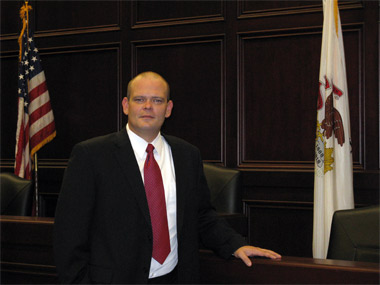 November 01, 2010
'Semester Away' programs benefit law students
CARBONDALE, Ill. -- For Bill Hickman, a third-year law student in the Southern Illinois University School of Law, the chance to move from the classroom to the courtroom was an opportunity he could not pass up.
The new "Semester Away" programs at the law school allow students to move beyond legal theory and into practical applications they will soon face upon graduation.
Initiated in the 2009-2010 school year by Associate Professor and Director of Graduate Legal Studies Thomas C. Britton and Professor William A. Schroeder, the programs allow students to study away from the law school in Carbondale and earn a full semester's credit. The programs combine a substantial externship and courses related to their field of study.
Schroeder's Criminal Trial Practice program focuses on criminal law through the Missouri Public Defender's Office in Jackson, Mo. Two students worked in the program in fall 2009, and Hickman is participating this semester. Britton's Law and Government program focuses on state and local governments in Springfield. Four students worked in the offices of Illinois Attorney General Lisa Madigan, the Illinois Municipal League, and counsels for House Speaker Michael J. Madigan, D-Chicago, and Senate President John J. Cullerton, D-Chicago.
Britton expects another six students to participate in his program during the spring 2011 semester.
"Our goals for the program are to give students experiences that they simply cannot get here at the law school in Carbondale and enhance their opportunities for employment," Britton said.
Students earn credit for participating, which prohibits them from receiving pay under American Bar Association standards.
Schroeder explained that during the last 50 years, law schools have transitioned from focusing solely on preparing students to take bar exams into introducing courses and allowing students an opportunity to gain legal experience.
Dean Cynthia L. Fountaine said the program is important for the law school, and one she would like to expand, where possible. The program was one of the offerings that attracted her to the law school when seeking to become dean last year.
Law school faculty in September approved adding a third "Semester Away" program for the school's Center for Health Law and Policy, Britton said. W. Eugene Basanta, the Southern Illinois Healthcare Professor of Law, and Assistant Professor Michele Mekel will direct that program with plans to launch it next fall, offering students the opportunity to work with state and not-for-profit entities that work in the health care field in Springfield, Britton said.
"It will be a real nice opportunity for our students to merge more traditional learning with experiential learning," Britton said.
Schroeder said the fall portion of the program offers an "intense semester of in-house criminal law."
"We are going to give you practical experience in a real legal setting where the law is used on a day-to-day basis," Schroeder said. "In effect, we are going to let you be a lawyer to the extent possible before you pass the bar."
Students must also simultaneously enroll in two classes, and Britton said he offers distance learning technology for them. He teaches in Springfield one week and teaches via video to classes in Carbondale, then teaches the next week in Carbondale while teaching via video to Springfield.
"That way we are combining ongoing personal contact between faculty and students even though they are 180 miles away," he said.
"Because this is very different we wanted to make sure we were doing this within the confines of our law school rules and also ABA standards," Britton said.
Hickman, who is in Schroeder's program, works three days a week with the Missouri Public Defenders' office in Jackson, Mo. He earned nine hours of credit, and also takes two additional courses this semester in criminal procedure, and a criminal procedure seminar.
Originally from Knoxville, Tenn., Hickman, 33, lives in Cambria with his wife, Erin, who is pursuing a master's degree in social work from SIUC. He commutes daily from Jackson, Mo., when needed, as did the two students in Schroeder's initial class in fall 2009.
The four students participating in Britton's class offering generally stayed in Springfield, although one student returned to Carbondale each Thursday night to see his family and another student returned to Edwardsville.
A few law schools have similar programs but most are located in larger urban areas, Britton said.
Hickman said the opportunity will help him prepare for his legal career when he graduates from law school in May.
Gaining familiarity with the legal process in the courtroom and not just the classroom is important, he said.
"It's one thing to learn about the right to a speedy trial; it's another to draft a motion and then argue it in the courtroom," he said.
Hickman earned his Missouri Supreme Court Rule 13 certification earlier this semester, allowing him to go to court and work on clients' behalf. That includes appearing in court under the supervision of a licensed attorney, interviewing clients, and researching case law.
Hickman's daily routine is far different than a few years earlier. Prior to deciding to attend the SIU School of Law when he was 30, Hickman was a property and casualty insurance underwriter for about five years. He earned his bachelor's degree in English literature from the University of Tennessee in 2002.
Hickman plans to have a general practice that includes family and criminal law, but has not discounted public defender work.
"That's the thing I like about the public defender's office -- you never know what case is going to come through the door," he said. "You never know what is going to happen; it really keeps you on your toes. This automatically leads to a broader understanding of the statutes and case law because you have to research so many different areas."
Christopher Davis, a district public defender with the Missouri Public Defender's Office in Jackson, said the law school's program is invaluable.
"It's a great program," he said. "We get free assistance and the students learn a lot from it, as well. Professor Schroeder has gone out of his way to provide us with high-quality students who contribute to the office."
The public defender's office in Jackson, Mo., is part of a statewide public defender system, and one of 33 in Missouri. The office handles public defender cases in Bollinger, Cape Girardeau, Mississippi, Perry and Scott counties.
"With our case overload it's been a big help to have extra hands doing research, appearing in court, and going over to the jails to conduct initial interviews," Davis said.