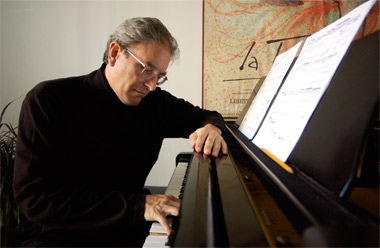 SIUC Composer-in-Residence Frank Stemper -- Frank Stemper, composer-in-residence at Southern Illinois University Carbondale, has coast-to-coast premieres of his musical compositions in the coming months. In November, the U.S. premiere of "A Brief Message from Makanda, Illinois" will take place in San Francisco. In March 2011, "By Night My Mind" premieres in New York City. (Photo by Jeff Garner) Download Photo Here
October 22, 2010
Stemper compositions to premiere on both coasts
CARBONDALE, Ill. -- The timing has to be right -- not just in the music, but for the music as well.
Frank Stemper, composer-in-residence at Southern Illinois University Carbondale, pulled out a 10-plus-year-old composition because, as he said, "it fit the bill" for a recent composition competition. The judges agreed, and "By Night My Mind" will premiere in New York City on March 20, 2011, at the New York Virtuoso Singers Choral Composition Competition Awards Concert.
The New York Virtuoso Singers, an acclaimed ensemble conducted by Harold Rosenbaum, sponsor the concert and the competition annually. Rosenbaum founded the ensemble in 1988, and they have become recognized leaders in contemporary choral music. The American Society of Composers, Authors and Publishers (ASCAP) recognized the ensemble for "Adventuresome Programming in Contemporary Music" three times, and the ensemble also holds awards from Chorus America, an ASCAP affiliate.
"By Night My Mind" sets two Shakespearean love sonnets to music featuring choir and piano. The composition is also an "Editor's Choice Pick" featured in "That New Music Library," a Rosenbaum project.
Stemper explained that contests aren't his usual mode of getting his music before the public. Much of his work is commissioned, or simply the result of his creative mind expressing itself in music.
"I don't really apply to win many competitions, just because it's such a long shot, and one never knows what kind of music the judges are searching for," he said. "I've only written for a specific competition twice, because the instrumentation of that competition's guidelines jumped out at me, and I just had to start working on it. Neither of those pieces, 'So It Goes' (1999) nor 'TootToot' (2002) won the competition. However, both pieces became part of that particular ensemble's touring repertoire, so they were performed probably a dozen times each, and were then recorded and professionally released by that ensemble -- so it worked out pretty well."
Stemper said he is not always able to attend a premiere, but he will be in New York City for the "By Night My Mind" premiere and for the last few rehearsals, by specific invitation. He will address the audience during a short interview before the premiere of his composition.
However, he won't be involved in final rehearsals for "A Brief Message from Makanda, Illinois", which premieres in the United States in just a few weeks on the opposite coast. That composition debuts in California over the Nov. 5-7 weekend.
Robert Geary and the Volti Choral, a 20-voice ensemble of professional singers, premiere the work in San Francisco. Stemper is one of the feature composers for the Volti Choral season.
Stemper created the texts for "A Brief Message from Makanda, Illinois" with assistance from the SIU School of Law's Sheila Simon, daughter of the late Paul Simon, former U.S. senator and one-time presidential candidate. The world premiere for the piece was in 2006 in Mexico.
Stemper also created a choral composition, "Last Words," based on Martin Luther King Jr.'s "Mountaintop" speech, his last public address, given in 1968 the night before his assassination in Memphis.
In addition to choral music, Stemper recently accepted a commission from the Stony Brook Contemporary Chamber Players in New York for a soprano and chamber ensemble composition.
Writing for a chamber ensemble performing in a more intimate space is considerably different than writing for an orchestra, or for a large chorus performing in a large, open space, Stemper said.
"For large groups, one should concentrate on the larger thematic ideas," he said. "In addition, a choir reacts with acoustics much more intricately and intimately than any other type of ensemble, in my opinion. There really is nothing like a chorus performing in a large, resonant space like a cathedral or a large hall -- the sound mingles with the acoustics of the space and seems to be coming from everywhere."
If all of that sounds like a schedule for a busy composer, Stemper said composers just don't know how to retire. He takes his inspiration, at least in part, from Elliott Carter, 100-year-old contemporary composer (he turns 101in December), who continues to compose, and has recently turned out some of his best work.
"I certainly have more ideas for new pieces than I could possibly carry out," Stemper said.
And that sounds like a promise for more premieres, commissions and new works.