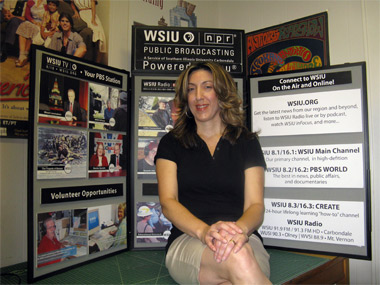 October 20, 2010
Ten Questions with ... Monica Tichenor
Job on campus/department you work in: Public Information & Promotions Coordinator for WSIU Public Broadcasting
How long at SIUC: 22 years
Hometown: Athens, Ill.
When you were a youngster, what did you want to be when you grew up? A writer. When I was in the fifth grade, we had a career day and were told to pick a profession. I chose "poet," but my teacher said poets didn't make any money and suggested I pick another career. So, I changed it to "writer." I guess I didn't get the concept!
If you could choose another profession, what would it be and why? A nature photographer because I'd be able to combine two loves: being outdoors and playing with all the settings on my camera.
What is something you still want to accomplish in life? To publish a novel, take a mission trip with my husband, Jak, see Glacier National Park, and visit my relatives in France.
People don't know that you … love running. I try to run 4-5 miles every morning before work. It clears my head, and I have so much energy when I'm done.
Who inspired you and how? I know it will sound cliché, but my parents. My mother, who was born and raised in Marseilles, France, lived through the Nazi occupation of her country, and my father, a native of Charleston, Ill., survived the Great Depression and WWII. They are courageous and embrace every day with a sense of adventure. Together they raised 10 children on my father's salary as a high school French and English teacher. If that fact alone isn't a profile in courage, I don't know what is!
If you could pick an actor/actress to play you in a movie, who would you pick, and why? Sandra Bullock. She's witty, resilient, and down-to-earth -- one of the few Hollywood actors I would call authentic.
What is one random fact about you? I'm right-handed, but can only throw a Frisbee with my left hand. It's weird!
Cats or dogs? Both. We have three cats and one dog. Pets are wonderful. They don't care how you look, what you earn, if the house is a mess, or if you aren't your best self. They just love you.
What is your pet peeve? Poor punctuation, especially if it's blown up to billboard size. I think everyone should read "Eats, Shoots & Leaves: The Zero Tolerance Approach to Punctuation" by Lynne Truss. Every word is true -- and it's hilarious!
What would you like your gravestone to say? Love one another.